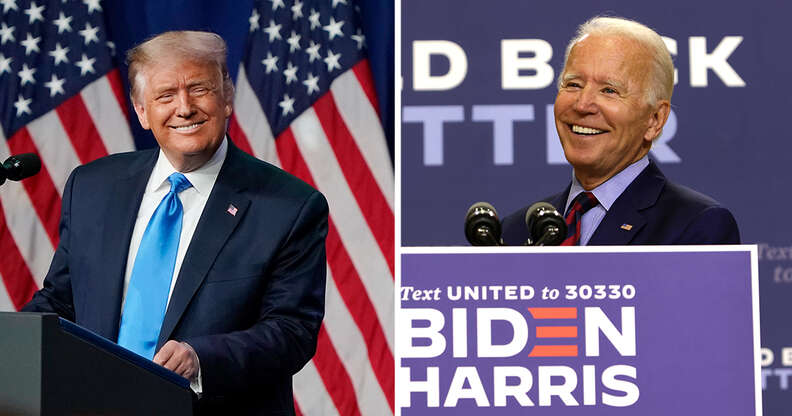 left: President Donald Trump speaks on the first day of the Republican National Convention on August 24, 2020 in Charlotte, North Carolina. (Photo by Chris Carlson-Pool/Getty Images) right: Democratic presidential nominee Joe Biden speaks during a campaign event September 4, 2020 in Wilmington, Delaware. (Photo by Alex Wong/Getty Images)
left: President Donald Trump speaks on the first day of the Republican National Convention on August 24, 2020 in Charlotte, North Carolina. (Photo by Chris Carlson-Pool/Getty Images) right: Democratic presidential nominee Joe Biden speaks during a campaign event September 4, 2020 in Wilmington, Delaware. (Photo by Alex Wong/Getty Images)
The first votes of the 2020 general election have been counted: some 4,000+ mail-in ballots in North Carolina.
Tom Bonier, who is the CEO of TargetSmart, a Democratic data firm, tweeted that the company had tracked the first returned ballots in North Carolina. The state became the first in the U.S. to send mail-in ballots to voters, starting on September 4.
The North Carolina State Board of Elections provides data updated daily on its website, including the number of ballots that have been requested and the count so far.
As of September 10, the state had received 758,057 ballot requests—a whopping 700,000 more than this time in 2016. (The state said at this point, 54 days before the election in 2016, it had received 50,425 ballot requests.) The same data shows that three times as many Democrats have requested ballots compared to Republicans, a trend which appears to be consistent across the nation.
Election officials are urging people who want to vote-by-mail to send in their ballot requests and return their ballots as soon as possible, to avoid any mail delays with the U.S. Postal Service—an ongoing issue that Congress is currently investigating. Many cities have ballot drop-off boxes, so voters don't have to rely on USPS.
Voting rights advocates have urged people who can vote safely in person to do so early, also in order to avoid mail delays and long lines on November 3. NPR reported that more than 550,000 primary absentee ballots have been rejected in 2020, as many people voting by mail for the first time may not follow all directions that ensure their ballot is counted.
Related: Why You Should Consider Voting Early In Person, If You're Able
This week, Harris County in Texas—the third biggest county in the nation population-wise, home to Houston—announced that it will have seven early voting locations that are open 24 hours.
Journalist Bradford Pearson called it a "huge victory for voting access," noting that "nearly 20 percent of all Texans" live in Harris County.
"A Biden victory in Texas would likely require huge turnout in Houston, and this cracks the door open a bit more," Pearson said. Strategists increasingly view the once-comfortably-red Texas as a battleground state this year, thanks to changing demographics and congressional and local Democratic gains there in recent years. The state hasn't gone for a Democratic presidential candidate in more than 40 years.
Related: Biden: Texas Is "Tougher" Than COVID-19, As Dems Eye Red Swing States
Election experts have said the public and media should treat the 2020 general election as rolling, not just one date, as it has traditionally been viewed. For instance, many consider the election finished on Nov. 3—and then election officials will need enough time to fairly count all ballots received by mail. The Washington Secretary of State, Kim Wyman (R), said she expects final counts to take at least until mid or late November, and emphasized that the likelihood of knowing who the winner is on Nov. 3 is low. Washington has for years been an all vote-by-mail state, so officials there are experienced with such counts. "What I'm really worried about is the expectation that we'll know who the president is on election night. That will not happen," Wyman said earlier this summer.
A record number of Americans are requesting mail-in ballots this year because of safety concerns due to the ongoing pandemic. According to a recent poll, a majority of Americans say they plan to vote early, whether in person or by mail, in a marked change from past elections. The Washington Post-University of Maryland poll found that six in 10 registered voters want to cast their ballots before Election Day. Michigan state officials said this week that a record-breaking 2.1 million voters there have already requested absentee ballots. "That is more than has ever been requested in any Michigan election," said MI Department of State spokesperson Jake Rollow. "Not just at the eight-week mark, but the final number in any election." The Ohio Secretary of State said this week that the state has received more than 1 million requests for ballots, another record.
The historic numbers come even as President Trump has repeatedly demonized vote-by-mail despite using it himself, because he and Republicans are worried a larger voter turnout will benefit Democrats. Voters in Midwestern states have more electoral power than voters elsewhere, thanks to the electoral college. Despite losing the popular vote by roughly 3 million in 2016, Donald Trump was able to win the presidency over Hillary Clinton thanks to some 77,000 voters in Michigan, Wisconsin, and Pennsylvania. Michigan Gov. Gretchen Whitmer (D) told NowThis during the DNC in August that she believes "it absolutely is a swing state" in 2020. She noted that Trump won Michigan by less than 11,000 votes in 2016, but she won her 2018 election as a Democratic candidate by almost 400,000 votes.
"We had a big turnout, and we also amended our constitution to make it easier for people to vote-by-mail," she said. "We elected a fantastic Secretary of State in Jocelyn Benson and a great Attorney General by the name of Dana Nessel, and the three of us are absolutely locked arm-in-arm, figuratively speaking, to make sure every vote gets counted. We're creating boxes for people to drop off, and we're going to go to court to protect the USPS and our constitutional right to vote." Whitmer continued: "We gotta work until the last vote is cast and the last poll is closed, and that's why it's so important that Michigan is not taken for granted, because it's not a lock for anyone. It's going to be a dog fight."
Related: Trump Calls Woodward A "Whack Job" During Packed, Mostly Maskless Michigan Rally
While the national focus shifts to the general election, state and other local elections are still happening at the same time. Just this week, a woman voting in a primary election in Exeter, New Hampshire, took off her T-shirt and voted topless after a local official told her she couldn't cast her ballot while wearing an anti-Trump shirt (considered "electioneering"). Exeter town moderator Paul Scafidi told The Boston Globe that when she removed her "McCain Hero, Trump Zero" shirt, poll workers and other voters there were shocked. "They all went 'whoa!'" he said. "I was like whatever, just let her go vote."
On September 18, Minnesota will become the first state to start in-person early voting for the general election. Find out when early voting begins in your state and other important election deadlines here.