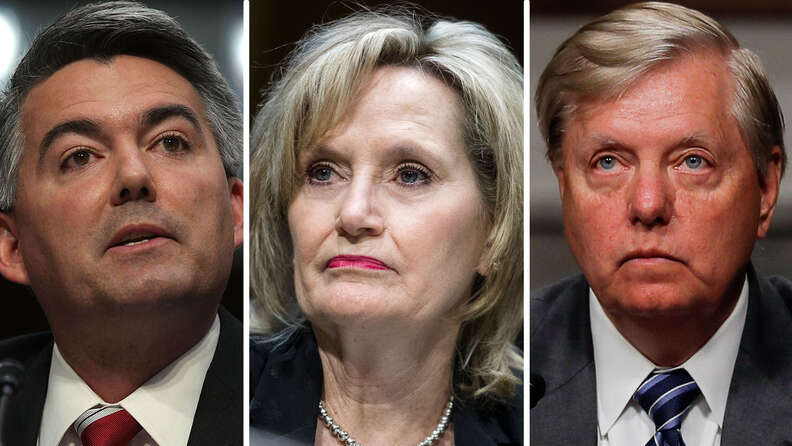 The upcoming elections don't only determine the country's next president — they could also flip the Senate in the Democratic Party's favor, which could be a crucial win for a Joe Biden presidency or a check and balance for a second Donald Trump term.
The GOP currently holds a slim majority in the Senate, with Democrats needing four seats to gain control, or three seats if Democratic candidate Biden wins the presidency. This year, some of the Senate's most high-profile members, including Majority Leader Mitch McConnell, are up for re-election, many voters will be watching their recent political moves.
There are currently 53 Republicans in the U.S. Senate and 45 Democrats. Two independent senators, Bernie Sanders of Vermont and Angus King of Maine, caucus with the Democrats, so the Senate is 53-47 in favor of the GOP.
Flipping Senate majority control away from Republicans is an important priority for Democrats in 2020, as the GOP-led Senate has been a boon to the Donald Trump presidency. It has also been a dead end for legislation passed by the Democrat-controlled House, including bills to protect voting rights and provide additional economic support for Americans during the COVID-19 pandemic.
If Biden wins, the Senate flips, and the House maintains majority, he would more easily be able to pass his legislative agenda; if President Trump wins re-election, a Democratic majority in Congress would present a significant counterweight to his political agenda.
There are 35 Senate seats up for election in 2020 — below are some of the most consequential races that could help determine whether Democrats can flip the congressional body.
RELATED: Can Democrats Flip The Senate? Their Candidates Are Outraising Republicans, Data Shows
Alabama: Doug Jones vs. Tommy Tuberville
In one of the two states where Democrats fear Republicans could flip a seat during the election, Democratic Sen. Doug Jones (the incumbent) could be unseated by first-time candidate and former Auburn University coach Tommy Tuberville. Tuberville has President Trump's endorsement in the staunchly Republican-leaning state, which has the nation's highest net approval rating for the president as of February. In 2017, Jones narrowly beat former Alabama Supreme Court Justice Roy Moore, who was scrutinized nationally over allegations of juvenile sexual assault. The special election between Jones and Moore was to fill the Senate vacancy left by Republican Jeff Sessions, whom Trump nominated to be his first attorney general, which is why Jones is already up for re-election (U.S. senators normally serve six-year terms).
Arizona: Martha McSally vs. Mark Kelly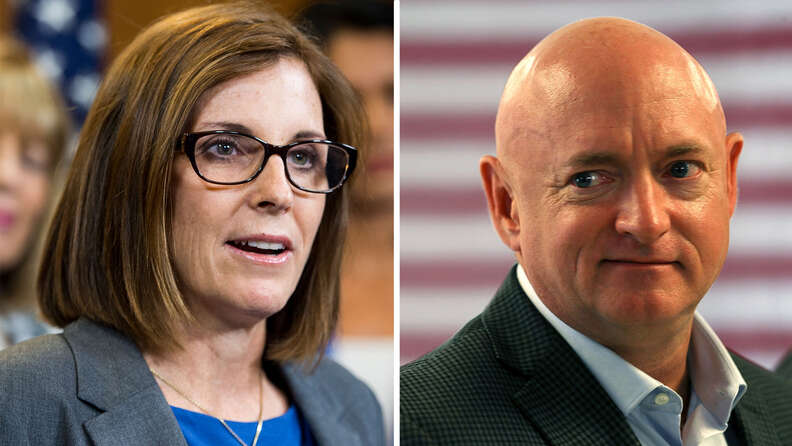 Republican Sen. Martha McSally faces a strong challenger in former NASA astronaut Mark Kelly. McSally was appointed to the seat by Gov. Doug Ducey to replace Jon Kyl, who resigned months after Ducey selected him to temporarily fill the seat of late Sen. John McCain. Though Arizona often slants red, Kelly, the husband of former gun reform advocate and former Rep. Gabby Giffords, has consistently outraised McSally and is ahead of her by almost six points, according to a recent RealClearPolitics poll. FiveThirtyEight polling averages also show that Biden has consistently led Trump in Arizona since late March, so the state could potentially go blue this fall.

Colorado: Cory Gardner vs. John Hickenlooper
Republican Sen. Cory Gardner's seat might be flipped by Democrat and former Colorado Gov. John Hickenlooper. According to a Wall Street Journal op-ed, Hickenlooper's strategy has been to continuously bring up Gardner's ties to Trump, whose many controversies have polarized the purple state. Though Gardner ran on the promise of being "a new kind of Republican," he has frequently supported Trump, including most recently indicating he will likely vote to confirm the president's Supreme Court justice nominee, Amy Coney Barrett — something that might not go down well in an "increasingly blue" state. A recent AARP poll of all Centennial State voters had Hickenlooper leading over Gardner 51% to 46%.

Kentucky*: Mitch McConnell vs. Amy McGrath
Senate Majority Leader Mitch McConnell, who is working to fast-track Trump nominee Barrett's confirmation to the Supreme Court, is also running for re-election this year against Amy McGrath, a Democrat. Many think her win over McConnell is unlikely based on polling, which is why there's an asterisk to differentiate it from the other races where Democrats are statistically within striking distance. Still, given the intense ire McConnell has attracted from Democrats nationwide, McGrath has received a flood of money to her campaign. Political strategists focused on flipping the Senate have been urging people to donate to the other more competitive races outside of Kentucky or to funds like Get Mitch Or Die Trying from the "Pod Save America" hosts, who are sending money to the races they believe will make the biggest difference.
Maine: Susan Collins vs. Sara Gideon
Sen. Susan Collins has represented Maine in the Senate for more than 20 years, but her status as a "moderate Republican" has been frequently called into question, especially with her crucial vote for controversial Supreme Court Justice Brett Kavanaugh in 2018. During the Trump years, Collins' propensity to issue statements claiming she's "very disappointed" about what the administration is doing — while tacitly supporting it — has made her a magnet for criticism. Democratic opponent and Maine's House Speaker Sara Gideon currently has a 54% to 42% lead over Collins, according to a recent Quinnipiac University poll.
Mississippi: Cindy Hyde-Smith vs. Mike Espy
Mike Espy, who formerly served as the 25th United States secretary of agriculture, is looking to unseat Cindy Hyde-Smith, a Republican senator and Trump loyalist who gained national recognition in 2018 when she happily and infamously said she'd "be on the front row" of a public hanging. Though Mississippi is a Republican-dominated state that hasn't had a Democrat in the Senate since 1988, Espy recently received an endorsement from Biden, who said he "has the experience to move Mississippi forward."
Michigan: Gary Peters vs. John James
Sen. Gary Peters, an incumbent Democrat, could be unseated by Republican challenger John James, an Army veteran who served in Iraq — however, polls consistently show Biden leading in the state, which could hurt James' chances. The Washington Post called James a "conservative media darling" who "continues to outraise" Peters — but Michigan Democrats have recently pressured James to solidify his stance on whether the vacancy on the Supreme Court left by late Supreme Court Justice Ruth Bader Ginsburg should be filled before the Nov. 3 election.
South Carolina: Lindsey Graham vs. Jaime Harrison
Polls show that Republican Sen. Lindsey Graham, one of Trump's fiercest allies in the Senate and chair of the Judiciary Committee, is seeing real competition from Democrat Jaime Harrison. Graham even recently told Fox News that he's "getting killed financially," as his opponent's fundraising efforts have skyrocketed following the death of Ginsburg, which has put a renewed national focus on Democrats flipping the Senate.
The Washington Post also included in its list of states with potential toss-up Senate elections Alaska, where independent Al Gross will try to unseat Republican Sen. Dan Sullivan; Georgia, where Republican Sen. David Perdue will face Democrat Jon Ossoff; Iowa, where Republican Sen. Joni Ernst faces Democratic challenger Theresa Greenfield; Kansas, where Republican Rep. Roger Marshall will face off against Democratic opponent Barbara Bollier; Montana, where Democratic Gov. Steve Bullock will try to unseat Republican Sen. Steve Daines; North Carolina, where Republican Sen. Thom Tillis will face off against Democrat Cal Cunningham (Tillis, who sits on the Senate Judiciary Committee, announced last week that he tested positive for COVID-19) ; and Texas, where Republican Sen. John Cornyn will face Democratic opponent MJ Hegar.
Georgia is also holding a special election for the full-term Senate seat thatRepublican Kelly Loeffler currently holds (Loeffler was appointed by Republican Gov. Brian Kemp when former Sen. Johnny Isakson retired in 2019). She faces both Republican and Democratic opponents, and depending on November's results, that race could go to a runoff in January 2021.