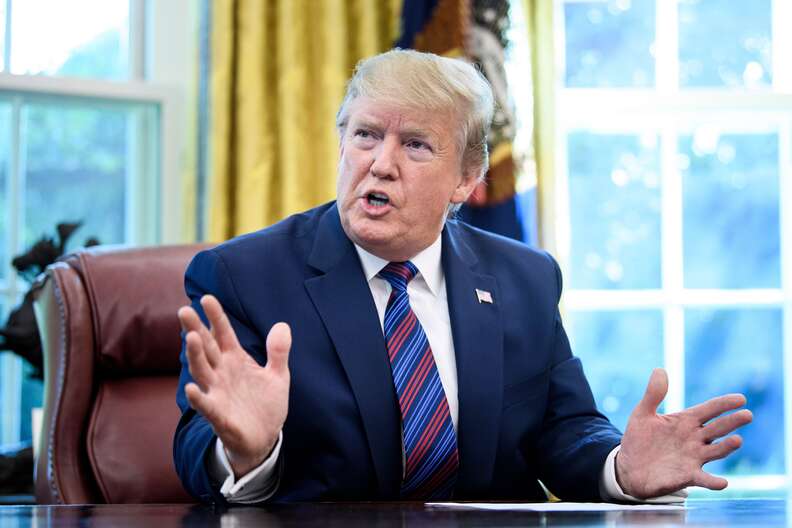 As immigration courts in the United States experience an enormous backlog of more than a million cases, asylum seekers with pending cases before the courts are having to wait longer than usual for an immigration judge to hear their case for asylum. The U.S. has often granted these people work permits that allow them to safely and legally provide for themselves as they wait, sometimes up to 5 years, for the courts to play catch up.
But that won't be the case anymore after the Trump Administration issued a sweeping policy Friday that will deny work authorization for most asylum-seekers in the U.S.
The policy is expected to force those deemed ineligible to either rely on support from charities and assistance from state and local governments, or risk working without a permit, making them vulnerable to abuse and potentially disqualifying them from asylum if caught.
"Punishing people for seeking asylum."
The regulation was first proposed by the Department of Homeland Security (DHS) in November 2019.
Like any other new federal regulation, the DHS was required to allow time for the public to send comments and concerns they had with the proposal, which it would then have to review and address in the final version of regulation. This follows procedures set forth in the Administrative Procedure Act (APA).
The new DHS regulation, issued on June 26, is the finalized version of the rule and will officially take effect on August 25, 2020, becoming the administration's latest attempt to methodically chip away at the U.S. asylum program.
"In practice, this means that poor people seeking asylum in the United States will have no way to support themselves," Senior U.S. Advocate at Refugees International Yael Schacher told NowThis. "Some may opt to work in the underground economy where they might be subject to abuse. Others might feel like they just can't pursue their asylum cases and will be forced back to the places they fled."
Aaron Reichlin-Melnick, Policy Counsel at the American Immigration Council, told NowThis the Trump administration's new rule will essentially amount to "punishing people for seeking protection."
"Many asylum seekers will have to choose between following the law and being driven into hunger or homelessness, or breaking the law to put food on the table by taking a job without a work permit," he said.
DHS dismissed concerns that this rule would negatively impact asylum seekers' well-being, and suggested they get used to the idea of being homeless before coming to the U.S.
"Asylum seekers who are concerned about homelessness... should become familiar with the homelessness resources provided by the state where they intend to reside," the policy reads in part.
The asylum seekers targeted by this policy
The administration will require all asylum seekers go at least one year without access to legal work after they submit their application, while many others will be completely banned from working for the entirety of their time waiting for an immigration judge to consider their asylum claim.
Under this policy, any asylum seekers who do not enter the country at a designated port of entry will be permanently ineligible for work permits, with very few exceptions.
The Trump administration has often, falsely, claimed that asylum seekers who enter the country between official ports of entry are doing so illegally. However, the Immigration and Nationality Act (INA) states the opposite to be true, clarifying that anyone can seek asylum at the border, or within the United States.
The Trump administration has also made it nearly impossible for those fleeing violence and persecution to apply for protection at the ports of entry it claims are the only legal locations they can seek asylum at. Through a practice called "metering," Customs and Border Patrol (CBP) is allowed to limit how many people can apply for asylum each day at these designated locations. The Obama administration briefly used it in February 2016, and then the Trump administration dramatically expanded it in April 2018, using metering systematically at ports of entry on the U.S.-Mexico border. Once a location's quota is met for the day, CBP can turn back asylum seekers. And even if they are allowed to apply for protection, they could still then be subject to another policy commonly-known as "Remain in Mexico," which would force them to wait on the Mexican side of the border as they wait for a U.S. immigration judge to hear their case.
According to the most recent DHS report on refugees and asylum seekers, which is for 2018, "The leading countries of nationality for persons granted either affirmative or defensive asylum were the People's Republic of China (China), Venezuela, and El Salvador."
RELATED: President Trump Suspends Visas For Foreign Workers in Latest Anti-Immigration Move
The new DHS rule also makes asylum-seekers who do not apply for protection within one year of entering the U.S. ineligible for work permits.
For the few asylum seekers still allowed to apply for work authorization under this regulation, the administration has more than doubled the amount of time they must remain unemployed before applying for a work permit. It will increase the current 180-day wait time they face, to 365-days — meaning even those considered fortunate under this policy will be forcibly unemployed for an entire year.
Despite this burden on asylum seekers, DHS said it was confident that those "legitimately fleeing persecution in their home countries will be willing to adapt to the longer wait period for employment authorization, if necessary, in favor of pursuing an asylum application."
"In other words," Reichlin-Melnick explained to NowThis. "DHS suggests those who have already lost everything in their home country will be content to beg for bread for a year just for the chance to avoid being sent home to die."
"Cruelty does seem to be the point."
The Trump administration claims this new policy is needed to "reduce incentives" for asylum seekers who make "frivolous" and "fraudulent" claims for protection — but in the same document, acknowledges it doesn't have evidence to show how many problematic applications it allegedly receives.
The experts we spoke to say they believe the overall objective of this policy is to deter as many people from applying for asylum in the U.S. as possible.
"The government's plan is to drive people into desperation so that they choose not to come here in the first place, or abandon their claims and go home," said Reichlin-Melnick.
"Cruelty does seem to be the point," Schacher said, referencing an essay from writer Adam Serwer for The Atlantic about the Trump administration, titled "The Cruelty Is The Point." Schacher continued: "The administration claims it is only interested in deterring those who have frivolous claims, but its policies apply to everyone, even to those the administration concedes will win asylum."
She pointed to another asylum regulation proposed by the administration on June 15 that, if finalized, would rewrite who qualifies for asylum — raising the standard so high that nearly no one would qualify for asylum in the U.S. any more. The public comment period for this rule closes on July 15, 2020. People can submit formal comments at the Federal Register website.
Schacher said these policies are "attempts by the administration to kill the asylum system forever."