Trump Admits He's Blocking Funding For USPS To Sabotage Mail-In Voting
Trump wants to make it harder for Americans to vote by mail during a pandemic.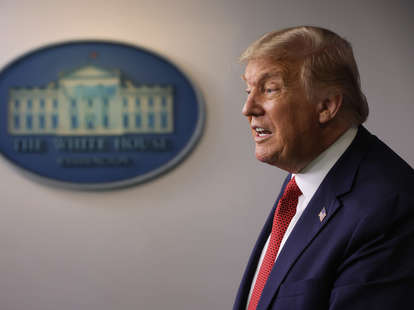 President Trump, in his own words, wants to make it harder for Americans to vote by mail during a pandemic.
Trump's recent tirades against the U.S. Postal Service have seemed to many like a thinly-veiled tactic to make mail-in voting more difficult. During a Thursday morning interview, he confirmed those suspicions, admitting his intentions to suppress additional funds to the Postal Service, therefore making it harder to vote by mail.
While speaking with Maria Bartiromo on Fox Business Network, Trump said that he opposes Democrats' proposal for additional funding for the Postal Service and mail-in voting resources.
"Now they need that money in order to make the post office work, so it can take all of these millions and millions of ballots," Trump said. "But if they don't get those two items, that means you can't have universal mail-in voting, because they're not equipped to have it."
In the Fox interview, Trump repeated his assertions from a daily press briefing on Wednesday that he would not sign off on the millions of dollars Democrats have advocated for including in a federal coronavirus relief bill. That money would go toward the Postal Service and mail-in voting resources.
"They don't have the money to do the universal mail-in voting. So therefore, they can't do it, I guess," Trump said. "Are they going to do it even if they don't have the money?"
Trump's repeated attacks on mail-in voting, and unsubstantiated claims that it would make it easier to commit fraud, follow a very telling March interview on Fox & Friends, in which he said that expanding voting resources in the U.S. would be a detriment to Republican candidates.
While referring to proposals by Democrats during coronavirus stimulus negotiations to increase funding for absentee and mail-in ballots, the president said in March, "They had levels of voting, that if you ever agreed to it you'd never have a Republican elected in this country again."
Along with his attacks on mail-in voting, Trump has repeatedly refused financial aid to the Postal Service during the pandemic. According to a Washington Post report, the president said he would refuse to sign the CARES Act in March if it included a bailout for the agency.
Despite the president's efforts to suppress mail-in voting, more and more states are passing measures that will automatically send mail-in ballots to active voters, the most recent being Nevada, who Trump threatened legal action against the following day.
House Oversight Committee Chair Rep. Carolyn Maloney (D-NY) on Wednesday announced a bill that would restrict changes to the operation levels of the U.S. Postal Service, asserting, "Our Postal Service should not become an instrument of partisan politics." To advocate for the bill, which would preserve the level of service the Postal Service had in January 2020 until the pandemic has ended, voting rights organizations are encouraging the public to call their representatives and support it.
New York Times columnist Jamelle Bouie, in an op-ed this week titled "How To Foil Trump's Election Night Strategy," also encourages individuals who are able to take the proper precautions to vote in person (including early voting or delivering ballots in person) to help foil Trump's suppression tactics.
A Vice News report published Thursday afternoon said that the Postal Service has started removing mail sorting machines from facilities across the country without explanation.
President Trump himself voted by mail in Florida earlier this year.
When asked about his comments, presumptive Democratic presidential nominee Joe Biden said Trump, "doesn't want an election."