Trump Calls Impeachment Inquiry Against Him A "Lynching"
The racially insensitive tweet is receiving a lot of backlash.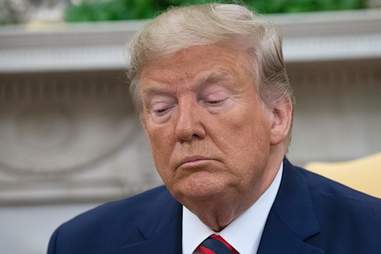 Trump sent a tweet calling the impeachment inquiry against him a "lynching"—now he's receiving plenty of backlash.
 
So some day, if a Democrat becomes President and the Republicans win the House, even by a tiny margin, they can impeach the President, without due process or fairness or any legal rights. All Republicans must remember what they are witnessing here - a lynching. But we will WIN!

— Donald J. Trump (@realDonaldTrump) October 22, 2019
The tweet received swift criticism from both Democrat and Republican lawmakers.
 
You think this impeachment is a LYNCHING? What the hell is wrong with you?

Do you know how many people who look like me have been lynched, since the inception of this country, by people who look like you. Delete this tweet. https://t.co/oTMhWo4awR

— Bobby L. Rush (@RepBobbyRush) October 22, 2019
We can all disagree on the process, and argue merits. But never should we use terms like "lynching" here. The painful scourge in our history has no comparison to politics, and @realDonaldTrump should retract this immediately. May God help us to return to a better way. https://t.co/URKNgxUfiv

— Adam Kinzinger (@RepKinzinger) October 22, 2019
Senator Lindsey Graham echoed Trump's sentiments, claiming that the term can also insinuate people taking the law into their own hands "for no good reason."
"When it's about Trump, who cares about the process," he said to reporters. "So yeah, this is a lynching."
Trump has frequently referred to special counsel Robert Mueller's inquiries and other oversight efforts against him as "witch hunts." Back in 2015, he also tweeted with term "lynching" to thank conservative radio host Mark Levin.
"Thank you for maintaining your integrity during this disgusting lynching of @realDonaldTrump" he said.
White House Deputy Press Secretary Hogan Gidley attempted to curve the backlash against Trump, saying he ""was not trying to compare himself to the horrific history in this country."
"What he was trying to point out clearly was that he has been attacked relentlessly by the mainstream media without cause, without evidence since the day he took over in this office," he told Fox News
According to the NAACP, from 1882-1968, 4,743 lynchings occurred in the United States. Of those who were lynched, 3,446 were black.
"The blacks lynched accounted for 72.7% of the people lynched. These numbers seem large, but it is known that not all of the lynchings were ever recorded," they stated. "Out of the 4,743 people lynched only 1,297 white people were lynched. That is only 27.3%. Many of the whites lynched were lynched for helping the black or being anti lynching and even for domestic crimes."