Trump Falsely Declares He "Won" 2020 Election While Votes Are Still Being Counted
In a speech from the White House at 2:30 a.m., Trump falsely proclaimed: "As far as I'm concerned, we already have won." Millions of votes, including in many key swing states, are still being counted. Neither candidate has reached the threshold of 270 electoral votes needed to win.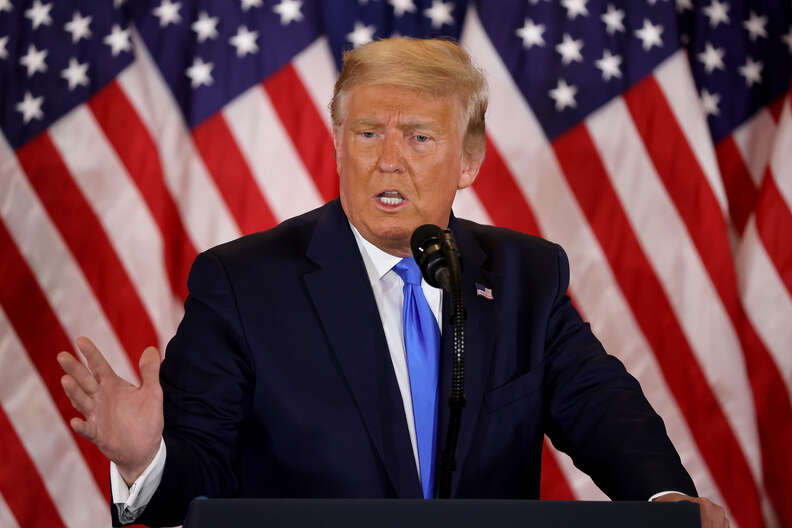 President Donald Trump, whose nearly four years in office have been flush with rampant disinformation, falsely declared victory in the overnight hours Wednesday in the 2020 U.S. presidential election.
The 74-year-old leader of the Republican party is facing Democratic opponent Joe Biden, 77, in one of the most contentious elections in modern history. As of about 3 a.m. ET, Trump is behind in both the electoral college tally and the popular vote.
In a speech from the White House at 2:30 a.m. ET, Trump falsely proclaimed: "As far as I'm concerned, we already have won." Trump said he wants "all voting to stop" and that he will take that demand to the Supreme Court, even though there are laws in every state that allow officials time to certify election results.
"We don't want them to find any ballots at four o'clock in the morning and add them to the list. Okay. It's a very sad, very sad moment. To me. There's a very sad moment and we will win this. And as far as I'm concerned, we already have won," Trump said, while also blasting the state of the election as "a fraud on the American public" and "an embarrassment to our country."
NPR cut away from his speech to tell viewers Trump was lying, and Fox News clarified that they had not yet called states that Trump had just falsely claimed he won. Even Vice President Mike Pence spoke after Trump and said "all the votes continue to be counted."
With a record-setting number of mail-in ballots cast, in addition to early voters who stood in hours-long lines at the polls, several states are still counting ballots and have not yet announced final results. Election law experts and officials are reminding Americans that this is a normal process that can take days or weeks to complete.
Trump also falsely claimed that "a very sad group of people are trying to disenfranchise" his supporters, with no evidence. He said he won the electoral college votes for North Carolina and Georgia, though the results for both of those states haven't been officially called yet, and took aim at the count in Pennsylvania. Some major counties in the key state of Pennsylvania will not begin counting mail-in ballots until later Wednesday morning. Governor Tom Wolf tweeted after Trump's speech, "We still have over 1 million mail ballots to count in Pennsylvania. I promised Pennsylvanians that we would count every vote and that's what we're going to do."
The governor added:
Around 12:40 a.m. ET, Biden gave his own speech in Delaware, thanking his supporters for their patience and saying in a stark contrast, "It ain't over 'til every vote is counted." Biden reiterated that it is neither his nor President Trump's place to claim victory but rather the American people's. He also said that he is optimistic about the outcome of the election.
Biden said Sunday night that Trump "is not going to steal this election," and Politico reported that Biden's campaign has been fundraising to cover legal fees in case post-election disputes drag out in court.
Data shows that Biden supporters and registered Democrats were far more likely to vote by mail this year than Trump supporters, given the stark difference in messaging about voting methods between the two parties during the COVID-19 pandemic.
Trump's attempts at undermining the American democratic system go back to 2016, when he lost the popular vote to Hillary Clinton by nearly 3 million votes, which he blamed on "illegal immigrants" without evidence. In his overnight speech Tuesday (of 2020), Trump once again attacked the validity of mail-in voting, a legal and conventional way to vote in the U.S. that the president himself utilized when he voted during the primaries.
Hours before Trump spoke, he tweeted a baseless allegation of election theft shortly after Biden's speech, prompting Twitter to add a "misleading information" label to the tweet which limits its visibility on the platform.
Trump's presidency and campaigns for the most powerful position in the world have been riddled with controversies and disinformation. In recent months, Trump routinely questioned the validity of the election results and refused to commit to peacefully transferring power if Biden won. Biden, meanwhile, has been concerned about voter suppression and intimidation efforts, especially from Trump himself.
The president also said he wanted to make it harder for Americans to vote by mail during the pandemic and opposed Democrats' proposal this summer for additional funding for the U.S. Postal Service and mail-in voting resources. He has repeatedly pushed a baseless claim that widespread voter fraud would impact the 2020 election—which judges nationwide, the FBI, and data have consistently disproven.
Johanna Silver contributed to this report.