Trump Grants A Bunch Of Pardons Then Slams COVID-19 Relief Bill
With less than a month left in office, the president threatened to torpedo the new COVID-19 relief bill and granted clemency to many Republican allies.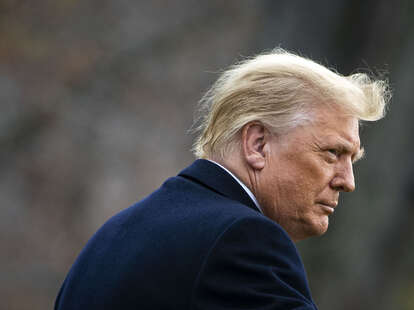 President Donald Trump, who is finishing out his last few weeks in office, issued a new round of presidential pardons to 15 people as well as five sentence commutations late Tuesday, including ones for a former campaign aide, Republican allies from Congress, and four ex-Blackwater security contractors convicted in the deaths of Iraqi civilians. Shortly after, the president posted an erratic four-minute video demanding changes to the new, bipartisan COVID-19 relief bill that came after months of negotiations.
The new relief bill, which would include another round of stimulus checks for Americans and financial aid for businesses, passed in the House and Senate on Monday. The president was then expected to sign off on the bill once it reached his desk, with aides signaling his support for it.
But in a lie-filled Twitter video, Trump called the bill, which is part of a broader government funding package, a "disgrace." He announced that he was asking for changes within it, potentially derailing the $900 billion package that came as around 12 million Americans are due to lose expanded unemployment benefits days after Christmas.
"I'm asking Congress to amend this bill and increase the ridiculously low $600 to $2,000 or $4,000 per couple," Trump said in the video. "I'm also asking Congress to immediately get rid of the wasteful and unnecessary items in this legislation or to send me a suitable bill."
"A few months ago, Congress started negotiations on a new package to get urgently needed help to the American people. It's taken forever," the President said. "However, the bill they are now planning to send back to my desk is much different than anticipated. It really is a disgrace."
The president's remarks, in which he didn't explicitly say he would veto the bipartisan bill, were met with mixed reactions from Democratic members of Congress.
House Speaker Nancy Pelosi (D-CA) addressed Trump's ask for an increased amount of individual aid for Americans, which Democrats had repeatedly asked for; Republicans wanted liability protections for businesses.
Pelosi tweeted on Tuesday, "Republicans repeatedly refused to say what amount the President wanted for direct checks. At last, the President has agreed to $2,000 — Democrats are ready to bring this to the Floor this week by unanimous consent. Let's do it!"
Pelosi then tweeted again on Wednesday, "Mr. President, sign the bill to keep government open! Urge McConnell and McCarthy to agree with the Democratic unanimous consent request for $2,000 direct payments! This can be done by noon on Christmas Eve!"
Senate Minority Leader Chuck Schumer (D-NY) also weighed in.
"We spent months trying to secure $2,000 checks but Republicans blocked it," Sen. Schumer tweeted on Tuesday. "Trump needs to sign the bill to help people and keep the government open and we're glad to pass more aid Americans need. Maybe Trump can finally make himself useful and get Republicans not to block it again."
Treasury Secretary Steven Mnuchin, who represented the administration during negotiations on the stimulus package, said in a Tuesday statement, "We are fully committed to ensuring that hardworking Americans get this vital support as quickly as possible and to further strengthening our economic recovery," while thanking Trump for his, "leadership."
According to a AP report, citing an aide, Congress was still preparing the "final text of the more than 5,000-page bill," and the aide didn't expect the bill to reach Trump's desk before Thursday or Friday. Meanwhile, government funding runs out this upcoming Monday.
The latest round of presidential pardons
The president also pardoned 15 people and commuted the criminal sentences of five others — many of whom are his allies. Those included in the list of pardons include former Republican Rep. Duncan Hunter who pleaded guilty last year to misusing campaign funds.
Trump also pardoned four former contractors for the security firm Blackwater — Nicholas Slatten, Paul Slough, Evan Liberty, and Dustin Heard — who were convicted in connection with the killing of Iraqi civilians in a 2007 incident that's become known as the Nisour Square massacre. Three of the private security contractors were convicted of manslaughter and one other, Slatten, was convicted of first-degree murder and has been serving a life sentence without parole.
Fox News host and Trump confidant Pete Hegseth specifically encouraged these pardons. Erik Prince, the founder of Blackwater, is the brother of Secretary of Education Betsy DeVos.
The president also pardoned former campaign aide George Papadopoulos, who pleaded guilty to lying FBI agents during the investigation into Russian interference in the 2016 election, and Alex van der Zwaan, who lied to Special Counsel Robert Mueller's investigators during the investigation.
Trump also commuted the sentences of two women convicted of nonviolent drug crimes at the urging of Alice Johnson, whose own sentence the president commuted in 2018 with the help of Kim Kardashian West.
Trump has previously pardoned other allies, including Michael Flynn, his former national security adviser, and political operative Roger Stone. Flynn had pleaded guilty to lying to the FBI during the Russia investigation in 2017, and Stone was convicted on seven felony charges by a federal jury in 2019 including lying to Congress, obstruction, and witness tampering.
Though a president granting clemency to felons is not unusual, Trump's pardons have largely involved his own allies.
He is expected to make more pardons in the last few weeks of his presidency, and has allegedly discussed preemptive pardons for his family members and personal attorney Rudy Giuliani. As of Wednesday, President Trump has granted more than three dozen pardons — including that of late suffragist Susan B. Anthony and controversial former Maricopa County Sheriff Joseph M. Arpaio — and commuted more than 20 people's sentences. Those figures are far less than those of his predecessors, according to the Pew Research Center.
Shelby Vaculin & Natalie Daher contributed to this report.