Trump, Melania Request Florida Mail-In Ballots, Despite Attacks On Mail-In Voting
News of their request followed a Thursday interview in which the president admitted his intentions to suppress additional funds to the Postal Service to make it harder for people to vote by mail.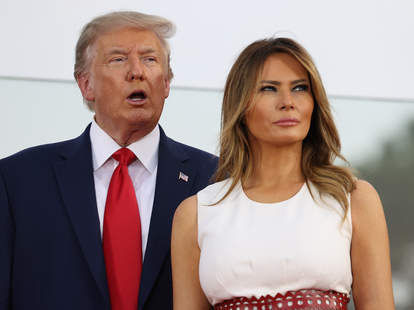 President Donald and First Lady Melania Trump requested mail-in ballots for Florida's upcoming primary election, despite the president's continuous attacks on mail-in voting. In a Thursday Fox Business Network interview, he admitted his intentions to suppress additional funds to the Postal Service to make it harder for (other) people to vote by mail.
The Palm Beach County Supervisor of Elections website shows that a ballot was mailed to Trump at his Mar-a-Lago address in Florida.
Palm Beach County Supervisor of Elections
Palm Beach County Supervisor of Elections
Though Trump has repeatedly attacked mail-in voting, and pushed unsubstantiated claims that it would make it easier to commit fraud, he has also simultaneously praised and encouraged mail-in voting in Florida, where he is registered to vote. 
In an August 5 tweet in which he admonished the state of Nevada for passing a measure that would send mail-in ballots to all registered voters, Trump said, "Florida has built a great infrastructure, over years, with two great Republican Governors. Florida, send in your Ballots!"
The president's decision to switch his residence from Manhattan to the private Palm Beach club in order to vote may not be legal, according to a May Washington Post report.
"The distinction is significant," the Post reported. "The property is taxed as a private club — not as a residence, according to Palm Beach County property appraiser records. Trump's own attorney assured local officials in Palm Beach before they voted to approve the club in 1993 that he would not live there. Mar-a-Lago's website says only that Trump maintains "private quarters" at the club."
"It's one or the other — it's a club or it's your home," said Reginald Stambaugh, an attorney representing a neighbor who opposes Trump's plans to build a dock for boats at the private club. "You can't have it both ways."
As the report states, if Palm Beach county sided with Stambaugh's assertions, Trump would have to decide between changing his residence or to stop operating Mar-a-Lago as a club and make it a single-family home, as it was once classified.
Trump first tried to register to vote in Florida using his out-of-state address in Washington, DC, despite the fact that law requires Florida voters to reside in the state. He then resubmitted his application using the Mar-a-Lago address.
In spite of the president's efforts to suppress mail-in voting, more and more states are passing measures that will automatically send mail-in ballots to active voters.
House Oversight Committee Chair Rep. Carolyn Maloney (D-NY) on Wednesday also announced a bill that would restrict changes to the operation levels of the U.S. Postal Service, asserting, "Our Postal Service should not become an instrument of partisan politics." To advocate for the bill, which would preserve the level of service the Postal Service had in January 2020 until the pandemic has ended, voting rights organizations are encouraging the public to call their representatives and support it.