Trump Praises Famous Anti-Semite Henry Ford For "Good Bloodlines"
American Jews are outraged at Trump's comments, saying it's the latest example of anti-Semitism from the president.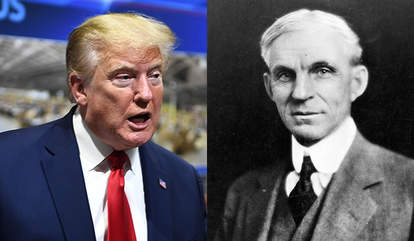 President Trump praised prominent anti-Semite Henry Ford for his "good bloodlines" Thursday, during a visit to a Ford motor plant in Michigan.
"The company founded by a man named Henry Ford — good bloodlines, good bloodlines, if you believe in that stuff, you got good blood," Trump said in remarks at the plant, which the president was visiting because it's producing ventilators during the pandemic. He then laughed.
Ford, who founded the Ford Motor Company in 1903 and lived through 1947, was so famously anti-Semitic that Adolf Hitler complimented him in "Mein Kampf." Ford was "the only American singled out for praise" in Hitler's manifesto, as noted by The Intercept journalist Robert Mackey.
Jonathan Greenblatt, head of the Anti-Defamation League, reacted on Twitter along with others:
The Michigan Jewish Democrats put out a statement after the president's visit, saying, "Jewish Michiganders are deeply proud of Detroit's automotive industry. But we know well that Henry Ford was one of the worst, most rabid antisemites in American history...it is no coincidence that Donald Trump has presided over the steepest rise in antisemitism in generations. The President is not only an apologist for antisemites, but has himself engendered severe hatred of Jews with his rampant conspiratorial, racist, and hateful speech."
The ADL tracks anti-Semitic attacks in the United States in annual reports. According to their data, anti-Semitic incidents hit an all-time high in 2019. The press release accompanying the report's publication said "the audit found there were, on average, as many as six antisemitic incidents in the U.S. for each day in the calendar year [of 2019] – the highest level of antisemitic activity ever recorded by ADL." The ADL has been tracking this data for 40 years. 2019 had a 12% increase in incidents from 2018, including a reported 56% increase in assaults.
RELATED: Trump Isn't Welcome In Places Where He's Planning Trips During A Pandemic
Trump's comments were off the cuff and a diversion from prepared remarks. According to The Intercept, Trump's prepared remarks read, "The company founded by a man named Henry Ford teamed up with the company founded by Thomas Edison — that's General Electric." But when actually delivering the speech, Trump looked up after saying Ford's name and added, "good bloodlines, good bloodlines, if you believe in that stuff, you got good blood." Trump has previously said he's "proud to have that German blood."
In 1920, Ford published a pamphlet entitled "The International Jew: The World's Foremost Problem," which promoted conspiracy theories about Jewish people running the world. The text endeared him to Hitler, who wrote the following in "Mein Kampf": "It is Jews who govern the stock exchange forces of the American Union. Every year makes them more and more the controlling masters of the producers in a nation of one hundred and twenty millions; only a single great man, Ford, to their fury, still maintains full independence." According to The New York Times in 1922, Hitler kept translations of Ford's writings in his private office, and put a large photo of Ford next to his desk on the wall. There's also ample evidence that Ford Motor Company had business ties to the Nazi regime.
At a ceremony in Michigan in 1938, Ford accepted the highest honor given by the Nazi government to foreigners, the Grand Cross of the German Eagle. Ford was the first American to receive this "honor."
Celebrating his 75th birthday, Henry Ford receives the Grand Cross of the German Eagle (highest Nazi award to a foreigner) for industrial accomplishments on July 31, 1938. It is presented by Karl Kapp, German consul at Cleveland while Fritz Heiler, German consul at Detroit shakes Ford's hand. (Getty Images)
Trump has a history of making anti-Semitic remarks himself, as well as comments about eugenics. He infamously praised neo-Nazi protesters in Charlottesville, Virginia in 2017 as "very fine people," discussing a "Unite the Right" rally in which a young woman named Heather Heyer was killed when a driver purposely plowed into a group of counter-protesters.
"Neo-Nazis and white supremacists hear the President's message of solidarity loud and clear," said Halie Soifer, the executive director of the Jewish Democrats Council of America, in response to Trump's comments about Ford. "Once again, he's emboldening, legitimizing, and strengthening their hateful movement...We said it before and will say it again – President Trump is the biggest threat to American Jews." The group put out a video in response, titled "We Can't Risk Four More Years Of Donald Trump."
Soifer's words echo that of the Michigan Jewish Democrats, who concluded their response to Trump with this: "The question for Jewish voters in Michigan and across the country is no longer, 'how many more dead Jews, how many more synagogue attacks must we endure before the President ceases invoking antisemitic rhetoric for political gain,' but rather, 'how many more Jews will die if Donald Trump is re-elected in November?' These are the stakes in this election, and make no mistake, Jewish Michiganders will turn out to defeat this President."
The Republican Jewish Coalition, who have previously criticized Barack Obama and Mitt Romney for speaking at the Ford museum, have not made a statement about Trump's comments.