Trump Says He'll Suspend Immigration During A Pandemic — But Can He?
Conservative groups have been pushing Trump to tighten restrictions on immigration, which has already been limited during the pandemic.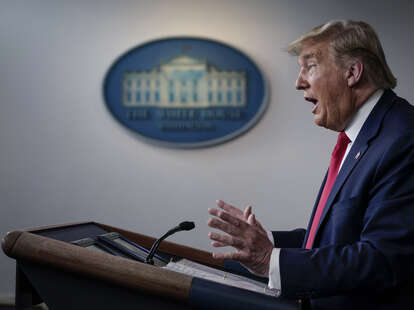 President Trump claimed in a late-night tweet on Monday that he will sign an executive order to temporarily suspend immigration to the U.S. during the coronavirus pandemic. Though it has not been immediately clear how the policy would be implemented and who would be affected, the call fits in line with the anti-immigration ideas he espoused on the campaign trail as well as the orders and policies he supported throughout his presidency.
Providing no additional details, Trump wrote: "In light of the attack from the Invisible Enemy, as well as the need to protect the jobs of our GREAT American Citizens, I will be signing an Executive Order to temporarily suspend immigration into the United States!"
During his Tuesday briefing, Trump said the immigration pause would be for 60 days and was meant to put American workers ahead of immigrants for jobs. He added that "farmers would not be impacted" but was not specific about the rest of the guidelines, saying he would release more information on Wednesday.
According to CNN, administration officials were drafting on Tuesday the language of the order Trump mentioned in his tweet. The move would effectively halt distribution of green cards and work visas. But immigration has already been limited during the pandemic, and the Department of State last month shut down visa services at consulates and embassies around the world. International air travel has also been steadily declining.
Trump has also already used emergency powers to essentially remove safeguards for any people crossing the U.S. border from Mexico, including those seeking asylum and unaccompanied minors who'd ordinarily be provided temporary shelter. People crossing the border have reportedly been expelled in less than two hours.
Politico reports that Trump could suspend entries for a period of time, "or cancel a specific program altogether for the year." As far as legal abilities, a director of immigration studies at the think tank, Cato Institute, identified two cases to the Washington Post: "Title 42 of the U.S. Code enables the president to halt immigration for health reasons, while a recent Supreme Court decision upholding his travel ban gives him unlimited authority on immigration." (The institute, which describes itself as libertarian, was co-founded and is partially funded by major GOP donor Charles Koch.)
Immigration advocates and elected officials immediately criticized the President's tweet on Monday.
"This is not about the policy. It is about the message the president wants to send. He wants people to turn against 'the other.' And, regardless of the valuable contributions immigrants are making to the response and recovery, he sees immigrants as the easiest to blame," Ali Noorani, executive director of the National Immigration Forum, tweeted.
"This action is not only an attempt to divert attention away from Trump's failure to stop the spread of the coronavirus and save lives, but an authoritarian-like move to take advantage of a crisis and advance his anti-immigrant agenda," Rep. Joaquin Castro (D-Texas), chairman of the House Hispanic Caucus and vice chairman of the House Foreign Affairs Committee tweeted. "We must come together to reject his division."
If Trump does take such action, it will likely be challenged in court, like many of his previous immigration restrictions and travel bans. The ACLU, which often initiates such challenges, said in a statement, "We cannot allow President Trump to exploit this pandemic to advance his racism and xenophobia."
Conservatives, however, have been calling for the President to tighten restrictions on immigration. Last week, former Attorney General Jeff Sessions, who has a long history of anti-immigration stances and is running for Senate in Alabama, appeared on Fox News to call on the U.S. "to immediately halt immigration… until Americans are back to work."
As the coronavirus has spread throughout the U.S., pummeling the economy and job market, Trump has repeatedly touted his travel restrictions with China and Europe as key moves that helped slow the spread of the virus. The President did not mention potential immigration restrictions during his daily coronavirus briefing on Monday. Last week, he clashed with governors over reopening states before ultimately releasing a plan that experts have considered a fantasy.
As of Tuesday, more than 2.5 million COVID-19 cases have been confirmed globally, according to the Johns Hopkins University tracker. More than 788,000 cases have been confirmed in the U.S., including more than 42,000 deaths.