Trump Threatens To "Close Down" Social Media After Twitter Fact-Checks Him
The president's tweets about mail-in ballots were the first to be fact-checked on Twitter in his more than three years in office.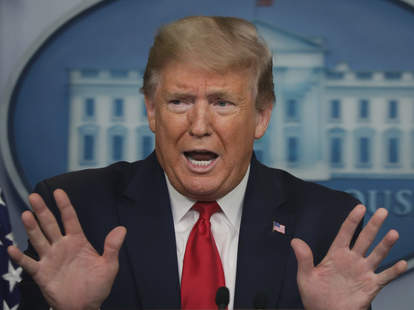 President Trump fired off two tweets Wednesday to his 80 million followers suggesting that he would shut down social media platforms after Twitter fact-checked his claims about voting by mail.
While the company has for years been embroiled in debates over free speech and false or threatening posts, for the first time on Tuesday, it fact-checked the president's tweets.
Twitter flagged two of Trump's tweets that falsely connected mail-in ballots to voter fraud by displaying a link for people on the platform to click that read: "Get the facts about mail-in ballots." Upon clicking the prompt, people were taken to a page with a bullet-point list of information, plus a collection of tweets from news outlets and reporters, that refuted the president's claims.
Soon after, he and his supporters criticized Big Tech's so-called suppression of conservative ideas.
"Republicans feel that Social Media Platforms totally silence conservatives voices. We will strongly regulate, or close them down, before we can ever allow this to happen. We saw what they attempted to do, and failed, in 2016 We can't let a more sophisticated version of that...." Trump tweeted Wednesday. He then repeated similar sentiments from his earlier tweets: "we can't let large scale Mail-In Ballots take root in our Country."

While it's unclear what the president meant by regulating or closing down social media platforms, there is no evidence that he could wield such power over publicly traded companies that billions of people use globally, Bloomberg News reported.
Earlier Tuesday, Twitter reportedly said it wouldn't remove Trump's tweets about an unsubstantiated conspiracy theory that MSNBC host Joe Scarborough killed Lori Klausutis, a former congressional staffer who was found dead in his office in 2001. Scarborough was a Republican congressman at the time, and Klausutis's death has been ruled accidental. Klausutis's widower, Timothy J. Klausutis, requested in a letter addressed to Twitter CEO Jack Dorsey that the platform remove the tweets.
In 2019, the company released a blog post about how world leaders use the platform; it outlined enforcement scenarios that included "promotion of terrorism" or "engaging in behaviors relating to child sexual exploitation." Sharing incorrect information was not on the list.
After Trump's latest tweets about mail-in voting, a Twitter spokesperson told NPR that the post doesn't violate the company's rules because "it does not directly try to dissuade people from voting" but contains "misleading information about the voting process, specifically mail-in ballots."
Trump's campaign manager Brad Parscale·posted a statement responding to Twitter's fact-check of the president's tweets.
"We always knew that Silicon Valley would pull out all the stops to obstruct and interfere with President Trump getting his message through to voters," the statement read. "Partnering with the biased fake news media 'fact checkers' is only a smoke screen Twitter is using to try to lend their obvious political tactics some false credibility. There are many reasons the Trump campaign pulled all our advertising from Twitter months ago, and their clear political bias is one of them."
Many have pointed out that Twitter has not fact-checked any other information that Trump has shared in his more than three years as president.
One technology reporter flagged that the language in Twitter's link doesn't actually call the information inaccurate, but instead merely directs people to learn more about mail-in ballots.
Others have questioned whether removing Trump from Twitter would be effective.
Last week, Trump attacked the states of Michigan and Nevada for sending their residents vote-by-mail documents, falsely claiming that this represented voter fraud and was being done illegally. Those tweets were an escalation of his attacks on the concept of voting by mail in general, which he has been seeking to "demonize" as "fraught with fraud and delivering an inherent advantage to Democratic candidates—despite there being scant evidence for either claim," the New York Times reported. Trump himself voted by mail in the March Florida primary. He's also done so in previous elections.