Trump To Pardon Susan B. Anthony As Support From Suburban Women Slides
Anthony was convicted of illegally voting as a woman in 1972, and her legacy as a suffragist has grown increasingly controversial.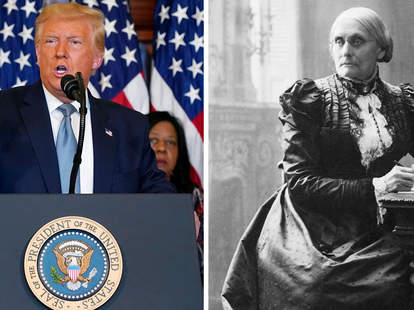 President Trump announced plans to posthumously pardon late women's suffrage advocate Susan B. Anthony on Tuesday, which marked the 100th anniversary of the adoption of the 19th Amendment.
"Later today, I will be signing a full and complete pardon for Susan B. Anthony," the president said during a White House event. "She was never pardoned. Did you know that? She was never pardoned."
"Women dominate the United States -- I think we can say that very strongly," he added, while referencing the increasing number of women who still hold a minority of congressional seats.
 
'A lot of women fought very, very hard for [the right to vote]' — 100 years ago, women didn't 'get' the right to vote, they fought to have it pic.twitter.com/Ml16ZmoPGB

— NowThis (@nowthisnews) August 18, 2020
Anthony, a leader of the women's suffrage movement for decades, was arrested after voting illegally in 1872 and tried before a jury of all men. She was fined $100, the equivalent of approximately $2,100 today.
Anthony died in 1906 — 14 years before the 19th amendment was ratified and disproportionately granted white women the right to vote.
Anthony's legacy has grown increasingly divisive, as modern historians and voting rights scholars have argued that she sidelined Black women from gaining the right to vote — and that other activists including Sojourner Truth and Ida B. Wells deserve more recognition for their role in fighting for women's suffrage. The National Susan B. Anthony Museum & House argues on its website that she was an abolitionist.
Trump's pardon of Anthony came one day after the start of the Democratic National Convention, during which Michelle Obama delivered a powerful, direct-to-camera indictment of his presidency. 
When asked about Obama's speech on Tuesday, the president criticized her as "over her head" and called her speech "extremely divisive." He has separately been recently slammed for resurrecting his "birther" attacks, this time against presumptive Democratic vice presidential nominee Kamala Harris, who is the first Black woman and South Asian person to appear on a major party ticket.
As for the upcoming November election, Trump has admitted his intentions to suppress additional funds to the U.S. Postal Service to make it harder for people to vote by mail.
In recent months, the president's poll numbers have slid behind his leading Democratic opponent Joe Biden, particularly among women. Biden is currently leading with women voters by a margin of 14 percentage points— 56% to 42% — according to an August 13 poll from the Pew Research Center. 
Trump has made several direct appeals to "suburban housewives," which appears to reference the primarily white women who helped elect him to office in 2016. The Guardian reported last month that white, college-educated women who were key to Trump's victory could be abandoning him in the upcoming election.
On Tuesday, at an event dedicated to women's suffrage, the president was asked to clarify his view of the "suburban housewife," considering many married women work, and fewer adult women are married. 
"I view it very strongly that the suburban voter, the suburban housewife, women -- and men -- living in the suburbs, they want security and they want safety," he said.