"Suburban Lifestyle Dream": Trump's Appeal To White Voters Condemned As Racist
As the president's poll numbers slide, many say he is drumming up racial anxiety in a diversion from his failed coronavirus response.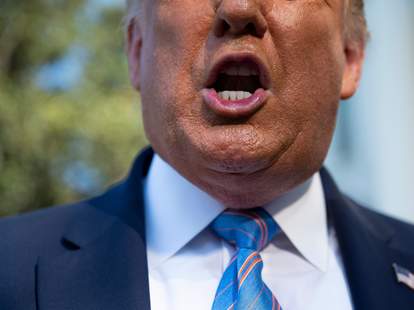 President Trump is increasingly pushing racist, NIMBY narratives in an attempt to capture white suburbanites' votes as his reelection campaign stumbles.
The president tweeted on Wednesday appealing to "people living their Suburban Lifestyle Dream" who, thanks to him, "will no longer be bothered or financially hurt by having low income housing built in your neighborhood." The tweet was quickly decried as racist, given that people of color have historically occupied low-income housing. 
 
It also came as more than 150,000 people in the U.S.— who have disproportionately been Black — have died from COVID-19, and a day before Trump frantically suggested postponing the November election. 
Trump's administration also announced last week that it would repeal the Obama administration's Affirmatively Furthering Fair Housing. The policy was an extension of 1968 civil rights legislation, the Fair Housing Act, aimed at rooting out discrimination in renting or buying property as well as segregation in American communities. The AFFH rule mandated that local governments receiving federal funding for housing and development "account for biased practices and craft a plan to fix them," CNBC reported.
In its announcement about removing the rule, The Department of Housing And Urban Development called the act "complicated, costly, and ineffective."
On Wednesday, the president tweeted: "Your housing prices will go up based on the market, and crime will go down," without evidence of rising crime in suburban communities.
Congressional members quickly condemned the president's comments.
We know exactly what this Racist in Chief means by "Suburban Lifestyle Dream." The AFFH rule was intended to help our government root out modern-day segregation—we won't go back. https://t.co/S6Ay7Vyleu

— Tammy Duckworth (@SenDuckworth) July 30, 2020
Other activists and journalists have pointed out that plenty of liberal Americans can inhibit the expansion of affordable housing.
Lot of nice white liberals outraged by this tweet who would be even more outraged if anyone dared tried to build public or even multi-family housing in their neighborhood. It's VERY often left-of-center people who fight against affordable housing. 👀👀👀👀👀👀👀 https://t.co/2oaSD40m5X

— josie duffy rice (@jduffyrice) July 30, 2020
Trump then doubled down on those comments during a visit to Texas on Thursday.
"People fight all of their lives to get into the suburbs and have a beautiful home," the president said. "There will be no more low-income housing forced into the suburbs ... so enjoy your life, ladies and gentlemen."
TRUMP: "By the way, I just ended the rule on suburbs. You know, the suburbs. People fight all of their lives to get into the suburbs and have a beautiful home. There will be no more low-income housing forced into the suburbs ... so enjoy your life, ladies and gentlemen." pic.twitter.com/nCJvKhHTYD

— Aaron Rupar (@atrupar) July 29, 2020
Trump's attempt to appeal to white voters, including white women who were essential to his 2016 victory, comes as Americans' support for the Black Lives Matter movement has reached an all-time high. And yet, the president has called BLM "a symbol of hate," defended a white St. Louis couple who pointed guns at protesters, and repeatedly encouraged the use of federal force to suppress demonstrators in the wake of George Floyd's death in Minneapolis.
What's more, his attempts to cast urban areas as hotbeds for crime could inadvertently push suburban voters away. The Guardian reported that white, college-educated women who were key to Trump's victory could be abandoning the president in this upcoming election.  
"I really failed my fellow American citizens," Claudia Luckenbach-Boman, a former Trump supporter, told The Guardian. "I'm extremely disappointed in myself, and sometimes I am really afraid to talk about it.
As the president slumps in national polls against presumptive Democratic nominee Joe Biden, he has also attempted to paint the former vice president as anti-suburbs. 
 
The Suburban Housewives of America must read this article. Biden will destroy your neighborhood and your American Dream. I will preserve it, and make it even better! https://t.co/1NzbR57Oe6

— Donald J. Trump (@realDonaldTrump) July 23, 2020
"Instead of finally leading, Donald Trump is yet again attempting to distract from his catastrophic, failed response to the pandemic by trying to divide our nation," Andrew Bates, a spokesperson for Biden, said in a statement. "Turning Americans against each other with total lies is unacceptable for a commander-in-chief at any time, but it's especially heinous to do so in a moment of worsening crisis."