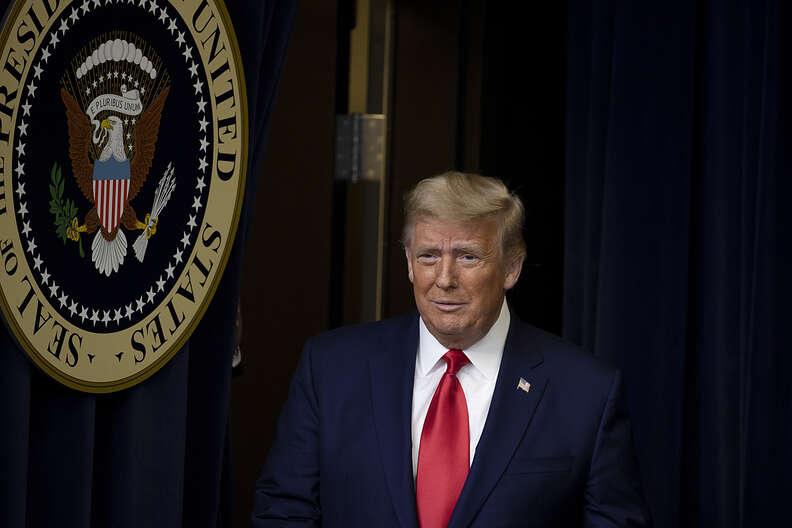 In a nearly hour-long phone call to Georgia's secretary of state, President Donald Trump continued his assault on democracy with increasingly desperate — and possibly illegal — attempts to overturn the results of the November election.
"I just want to find 11,780 votes, which is one more than we have. Because we won the state," Trump said to Brad Raffensperger, the top Republican election official in Georgia. The Washington Post first obtained and published audio of the call on Sunday evening, with news outlets like CNN and NBC News following.
The call, which took place on Saturday, has outraged members of both parties and led to renewed calls for (another) impeachment as well as calls for federal and state authorities to investigate the president's potentially criminal behavior.
Here are five questions (and answers) about the president's latest stunning phone call.
What exactly happened?
Trump was joined on the call by White House Chief of Staff Mark Meadows and several lawyers, "including longtime conservative attorney Cleta Mitchell and Georgia-based attorney Kurt Hilbert," according to The Post. Raffensperger was joined by Jordan Fuchs, Georgia deputy secretary of state, and Ryan Germany, general counsel for their office. The call came just a few days before Congress is set to formally certify the results of the Electoral College on January 6, as well as days before two crucial Senate runoff races in Georgia that will determine party control of the upper chamber.
At 2:41 pm on Saturday, Raffensperger received a call from the White House. According to NBC News, "the White House switchboard had made 18 previous attempts to have Trump speak with him in the two months since the general election." The president has been tweeting conspiracy theories about election fraud in Georgia for months, prompting public responses from the Georgia secretary of state, but the two had not spoken directly until this call.

In one of the more stunning lines, Trump said to Georgia election officials that "the people of Georgia are angry, the people of the country are angry. And there's nothing wrong with saying, you know, that you've recalculated."
Raffensperger responded by saying, "Well, Mr. President, the challenge that you have is, the data you have is wrong."
The president repeated several conspiracy theories found on right-wing message boards and in conservative media, all of which journalists as well as election officials, including Republicans, have debunked.
On Sunday morning, Trump tweeted a false characterization of the phone call, prompting Raffensperger to respond and debunk his claims once again:
By Sunday night, audio of the call had come out. NBC News reported that a source said "officials in Raffensperger's office recorded the call, and he made clear to his advisers he did not want it released unless Trump attacked Georgia officials or misrepresented the conversation[.]" It is unclear who gave the audio recording to The Post and other news outlets.
Where does Trump get these conspiracy theories from?
On the call, Trump repeated a litany of conspiracy theories in his attempts to buttress his claims of fraud. They included a baseless assertion that he actually won Georgia by half a million votes (Biden won by about 12,000); that "thousands of dead people voted" (they didn't); that Dominion voting machines were somehow tampered with (they weren't); and several others.
NBC News journalist Ben Collins, who covers disinformation, traced Trump's various purported theories back to online right-wing forums, which have been a cesspool of bad information regarding the election.
"I don't know how else to put this: The QAnon social media pipeline has totally engulfed far-right social media and churns out one new fictitious way for Trump to remain president every day," Collins continued on Twitter. "It's all Donald Trump ingests, and he thinks he can remain president because of it."

Dominion Voting Systems, a company which describes itself as "a leading industry supplier of election technology across the U.S., Canada and globally," has been the focus of right-wing conspiracies repeated by Trump's inner circle — like his lawyer Rudy Giuliani — for months now. Trump asked Raffensperger's legal counsel, Ryan Germany, on the call, "Do you think it's possible that they shredded ballots in Fulton County? Because that's what the rumor is. And also that Dominion took out machines. That Dominion is really moving fast to get rid of their, uh, machinery. Do you know anything about that? Because that's illegal, right?"
Germany told him, "No, Dominion has not moved any machinery out of Fulton County." Trump then asked, "But have they moved the inner parts of the machines and replaced them with other parts?"
Germany: "No."
Trump: "Are you sure, Ryan?"
Germany: "I'm sure. I'm sure, Mr. President."
As Collins explained, "The Dominion conspiracy is just QAnon, pushed by the very same accounts. It has countless tendrils. And the president believes all of it."

Georgia officials conducted an audit of the vote and hand-counted ballots three times, which disproves the baseless claim of "scanning errors" causing more votes to go to Biden.

Even some of Trump's supporters have described the call as "inappropriate" and "disappointing." The lieutenant governor of Georgia, a Republican who voted for Trump in November, said on CNN, "It was based on misinformation, it was based on, you know, all types of theories that have been debunked and disproved over the course of the last 10 weeks."
Did Trump commit a crime?
Very possibly yes. Officials and legal experts have already cited both federal and state laws that Trump appeared to violate with his fraudulent demands and abuse of power.
Two Democratic lawmakers have already called on the FBI to investigate. Reps. Ted Lieu (D-CA) and Kathleen Rice (D-NY) sent a letter to FBI Director Chris Wray on Monday, writing, "As members of Congress and former prosecutors, we believe Donald Trump engaged in solicitation of, or conspiracy to commit, a number of election crimes. We ask you to open an immediate criminal investigation into the president."
A former inspector general for the Department of Justice tweeted that Trump's comments are a violation of federal law and that "his best defense would be insanity." He also said that Meadows and Trump's lawyers should also be worried about potential criminal liability.
"We need the tapes of this and all other similar calls between Trump and state election officials since the election to determine the extent of the federal and state election law crimes," Bromwich said, linking to a Breitbart article about Trump speaking to 300 state legislators from key battleground states in a Zoom call that was also on Saturday. The virtual conference reportedly took place after Trump's call with Raffensperger; the conservative organization Got Freedom? organized it. The group "urged those lawmakers [on the call] to review evidence that the election process in their states was unlawful and consider decertifying the results of the November 3 presidential election," according to Breitbart.
At the state level, a member of the state election board in Georgia wrote to officials Sunday evening and asked for an investigation into the call and whether it violated state law. David Worley, the only Democrat on the election board in Georgia, wrote that "it appears from a reading of the transcript of your call with the President that probable cause may exist to find violations of the [state] Code, particularly O.C.G.A. [statute] 21-2-603 and 604," which prohibits conspiracy to commit election fraud, including soliciting someone else to commit election fraud. The Post reported that "such a violation can be punished by up to three years in prison."
Worley wrote in his letter, "To say that I am troubled by President Trump's attempt to manipulate the votes of Georgians would be an understatement. Once we have received your investigative report, it will be the board's duty to determine whether probable cause exists to refer this matter."
Raffensperger addressed the request Monday morning in an interview with ABC's Good Morning America. He said his office may have a conflict of interest in such an investigation given its participation in the call and said the Fulton County District Attorney may take it up instead.
"Maybe that's the appropriate venue to go," Raffensperger said. The Atlanta Journal-Constitution reported that Fulton County District Attorney Fani Willis "said her office would handle the matter 'based on the facts and the law.'"
How is everyone else reacting?
Rep. Alexandria Ocasio-Cortez (D-NY) said if it were up to her, articles of impeachment would be on the House floor ASAP.
"I absolutely think it's an impeachable offense and if it was up to me, there would be articles on the floor, quite quickly," she said, according to Bloomberg News.
She's not alone. Noah Bookbinder, the executive director of Citizens for Responsibility and Ethics in Washington, tweeted, "While the logistics of holding impeachment proceedings in the final two weeks of a presidency are admittedly hard to pull off, if this Georgia phone call isn't impeachable conduct, then literally nothing is. Congress must act immediately."
Even conservative writer Bill Kristol seemed to tacitly endorse the idea:
Alexander Vindman, a star impeachment witness in the Ukraine scandal — which also originated with a dangerously anti-democratic phone call from the president — weighed in as well.
Other Republican senators, like Mitch McConnell and Ted Cruz, have so far refused to comment.
What happens next?
The president's behavior may affect the results of the Senate runoff races in Georgia, which are Tuesday, January 5. Trump is scheduled to campaign this evening in Georgia for Republican incumbents David Perdue and Kelly Loeffler. President-elect Joe Biden is also campaigning Monday in Atlanta on behalf of Democratic candidates Raphael Warnock and Jon Ossoff, both of whom have criticized Trump over the phone call.
Gabriel Sterling, a top election official in charge of voting systems in Georgia, held a fiery press conference Monday afternoon where he debunked the president's claims, once again, point by point.
"I will admit when I listened to the audio of the phone call … I wanted to scream, well I did scream at the computer, and I screamed in my car, at the radio, talking about this, because this has been debunked," Sterling said Monday. Of the Dominion voting system claims, he said, "I don't even know what that means...That's not real."
"This is all easily, provably false. Yet the president persists," he continued, adding: "And by doing so, undermines Georgians' faith in the election system, especially Republican Georgians in this case, which is important because we have a big election coming up tomorrow, and everybody deserves to have their vote counted if they want it to be — Republican and Democrat alike."
Congress is set to certify the election results on Wednesday, despite planned attempts from a group of Republican senators to contest the certification.
President-elect Biden is set to be sworn into office on January 20.