Op-Ed: How The U.S. Can Fix The "Humanitarian Emergency" At The Border
A former Obama policy director writes about why the human reality at the U.S. border is complex and demands multi-faceted solutions.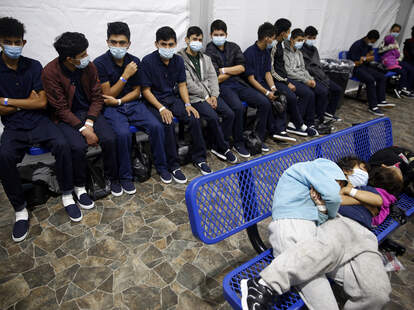 As heart-wrenching images of children wrapped in mylar blankets and crowded into makeshift enclosures transfix the nation, it's easy to lament the emergency and offer platitudes about "securing the border." The human reality is more complex and demands multi-faceted solutions. Decades of disinvestment in immigration infrastructure, inconsistent government policies fluctuating between treating immigration as a criminal or humanitarian issue, and limited appetite to address the root causes of migration abroad, have all led us to this paroxysmal point. The truth is that our asylum system and infrastructure is fundamentally broken.
This year, we expect more than 100,000 unaccompanied children to seek refuge in the United States, as they flee violence, persecution, extreme poverty, food shortages, and climate-fueled natural disasters. This is a result of both deteriorating economic, environmental, and security conditions in several Central American nations, combined with our broken asylum system. Unfortunately, this year's surge of unaccompanied minors isn't an aberration. We saw similar spikes in 2014, 2016, and 2019 — during both Republican and Democratic administrations — and in every case, our nation failed to adequately respond.
Unfortunately, there is no silver bullet solution to an emergency that was years in the making. We simply have to do the hard work in the coming months to enact enduring solutions. The organization I lead, Lutheran Immigration and Refugee Service, has spent two decades caring for unaccompanied children and reuniting them with their sponsors, and we have developed solutions that we must consider implementing at scale.
We believe three key actions could help build a more compassionate and common-sense system to care for these children:
1. Streamline, secure, and support the process that reunites unaccompanied children with their family sponsors.
Approximately 85% of unaccompanied children have a parent or relative already present in the U.S. According to U.S. law, unaccompanied children are supposed to be processed by Customs and Border Patrol and then transferred quickly to the Office of Refugee Resettlement (ORR) — an agency with child welfare expertise who cares for them through its network of providers — until they can be safely reunited with their sponsor. Unfortunately, however, ORR's physical capacity has been significantly reduced by numerous policies and budget cuts by the Trump administration, as well as its compliance with pandemic-related public health measures. While children cannot legally be held in CBP custody for more than 72 hours, nearly 1,000 of them have now been in custody for more than 10 days.
The Biden administration has taken several positive steps towards reunification, such as embedding ORR officials within CBP facilities, rescinding the data sharing memorandum enacted by the Trump administration to ensure sponsors feel safe enough to come forward, and paying for the cost of travel to reunite children and sponsors — but more can be done. Given that many U.S. relatives may already be aware that a child is on the way, the federal government should consider mechanisms to begin the sponsor notification and application process as soon as legally possible – including before children have reached or just after they have crossed the U.S. border.
2. Bolster community-based care.
The convergence of pandemic challenges and neglected immigration infrastructure has forced the Biden administration to make the best of a terrible situation. Years of disinvestment in community-based care by the Trump administration has forced it to utilize large-scale influx facilities, such as Carrizo Springs, that house hundreds or thousands of children at a time. Influx facilities have been widely criticized for a lack of personalized care, allegations of negligence and abuse, and insufficient vetting of staff. These facilities should only be used as an absolute last resort, as the administration works to rapidly scale up capacity, and their use must be subject to child welfare best practices, come with an expiration date, and exclude operation by private, for-profit entities that have repeatedly proven to place profits over the best interests of children.
The near-term solution is for the federal government to significantly invest in strengthening and expanding smaller, family-centric care models that are scalable and flexible while maintaining child welfare best practices. Through our transitional foster care system, for example, Lutheran Immigration and Refugee Service trains and supports foster families who can provide a safe, loving home until children are reunited with their U.S. family sponsor. In the past weeks, we have seen a significant uptick in foster family applications. The administration should leverage the generosity of thousands of families across America who are willing and able to open their hearts and their homes to children in need.
3. Address root causes of migration in Central America and expand legal pathways to the U.S.
Children from Central America should not face the perilous choice of whether to undertake the treacherous journey north to seek asylum and reunite with family. The Biden administration has proposed spending $4 billion over the next four years to address root causes of migration, ranging from expanding economic opportunities and combatting violence, to improving agricultural production and bolstering community resilience. The Biden administration also wisely reinstituted the Central American Minor program, which historically provided a legal pathway for certain children to reunite with their lawfully present parents in the U.S., and has committed to improving the program's application process and eligibility requirements. This effort would include building greater refugee in-country processing capacity across the region, so that presenting at the border is not the only way to seek their legal rights to humanitarian protection.
The thousands of unaccompanied children at our southern border is a humanitarian emergency that can only be managed through strategic investments and forward-thinking actions. We must learn from the many, many mistakes of the past and adopt proactive policies, build sufficient asylum infrastructure, and attack the root causes to prevent this precarious situation from persisting. For the sake of thousands of vulnerable children, we have no choice but to act.
Krish O'Mara Vignarajah (@KrishVignarajah) is the President and CEO of Lutheran Immigration and Refugee Service, the nation's largest faith-based nonprofit dedicated exclusively to serving vulnerable immigrant communities.