USPS Head Tells Senators He Won't Reinstate Machines That Have Been Shut Down
Postmaster Louis DeJoy's testimony before Congress didn't appear to ease Democrats' concerns over vote-by-mail and effective delivery of essential goods, including medicine, to vulnerable people.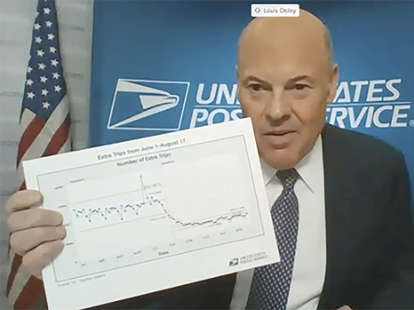 In his first appearance before Congress, the recently appointed Postmaster General Louis DeJoy said he would not reinstate equipment he ordered to be removed or shut down from U.S. Postal Service offices around the country. Over the last week, public outcry has mounted over how a reduced postal service could hurt vote-by-mail in the upcoming election.
DeJoy, a Republican and Trump mega donor who started his role at USPS in June, agreed to speak before the Senate Homeland Security and Governmental Affairs Committee on Friday as Democrats have raised concerns over the state of vote-by-mail during the pandemic.
During the hearing, Democrats grilled DeJoy over the lack of transparency in the changes he's made to USPS. Republicans largely praised him for taking over a tough job at the nation's beleaguered, but highly beloved, federal agency, which has long struggled financially. (It's still the most popular federal agency in the country by far.)
With recent changes, the agency has already been experiencing long distribution delays that are holding up delivery of essential mail and packages, including medicine, to people nationwide. People including those living in rural areas, veterans, and seniors have been considered most vulnerable to the upheaval.
DeJoy told Congress that election mail is his "#1 priority" but declined requests to reinstate essential equipment including sorting machines and mailboxes that have already been removed. He told Sen. Mitt Romney (R-UT) that he was "highly confident" all ballots could be delivered by Election Day if voters send them at least seven days in advance.
During an exchange with Sen. Jacky Rosen (D-NV), who asked if DeJoy could commit to providing notes from "all closed, non-public board of governors meetings from this year," the postmaster general declined to provide transcripts and minutes.
"I don't know, I don't have the authority to do some of those things," he said. "And that is something that I would need to discuss with counsel and the board's counsel, so I can't commit to that."
On Thursday, a former Postal Service inspector general who was vice chairman of the board told lawmakers he resigned from his position in April in protest because the Trump administration wanted to turn USPS into a "political tool."
"If this is the beginning of what the president promised, it's the end of the Postal Service," David Williams said in his first public comments since resigning, according to The New York Times.
On Friday, DeJoy notably acknowledged that he didn't analyze how changes would affect seniors or veterans, many of whom rely on the post office for essential deliveries.
Sen. Gary Peters (D-MI) described an account of a constituent who was hospitalized because medicine hadn't arrived on time.
"These are real people coming forward talking about problems they're experiencing," Peters said.
He continued: "Your decisions have cost Americans their health, their time, their livelihoods, and their peace of mind. I believe you owe them an apology for the harm you have caused."
On the same day of DeJoy's testimony, six states' attorneys general filed a lawsuit against him and the USPS, arguing that the existing changes served to disenfranchise voters.
A nationwide "day of action" is planned for Saturday, during which people are expected to show up at post offices around the country to "save the post office" from President Trump and demand that DeJoy resign.
Sen. Elizabeth Warren (D-MA) said Friday that DeJoy "flat-out lied" in his Senate testimony.
DeJoy announced earlier this week that he was temporarily "suspending" all operational changes to the U.S. Postal Service until after the election, as at least 20 states led by Democratic attorneys general began to announce plans to file federal lawsuits.
DeJoy will testify again on Monday before the House Committee on Oversight and Reform. Speaker Nancy Pelosi had called earlier this week for House members to return in order to vote on the committee Chairwoman Carolyn Maloney's "Delivering for America Act," which would preserve the level of service the Postal Service had in January 2020 until the pandemic has ended.
RELATED: Elizabeth Warren: If Everybody Votes, Trump Will Lose. "And He Knows That."
DeJoy has spent much of his career as a businessman, including overtaking his father's shipping business, and donated more than $1 million to Trump's campaign. He also has a multimillion dollar stake in a private contractor for USPS—a competitor to its government-funded services—which ethics experts have said is a likely "conflict of interest."
Critics have expressed skepticism over whether DeJoy was qualified for and fairly appointed to his current position; Williams resigned during his appointment process, citing "concerns after each of the interviews" with DeJoy and calling for a background check.