Voters Grill President Trump At Town Hall On Everything From Face Masks To Race
The voters, along with moderator George Stephanopoulos, challenged Trump on issues in the U.S., from COVID-19 to health care to racial injustices.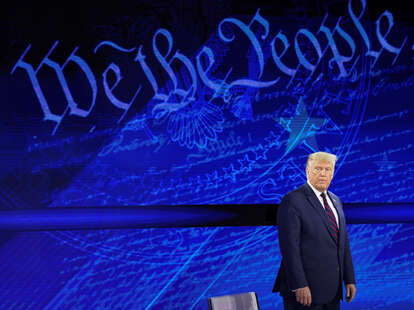 President Trump went on the defensive as undecided voters grilled him at a town hall on Tuesday night about the country's COVID-19 response, health care, and racial injustice.
During the 90-minute town hall hosted by ABC at the National Constitution Center in Philadelphia, uncommitted voters had a rare chance to ask Trump about many issues, ranging from COVID-19 to racial injustices that Americans around the country have experienced.
Pennsylvania is a key swing state in the upcoming election, and Democratic presidential nominee Joe Biden currently has the lead, according to recent polls. Trump defeated Hillary Clinton in the state during the 2016 election.
While having to answer to individuals outside of his hyper-supportive base, Trump doubled down in defense of his response to the virus, despite the U.S. holding a global record of nearly 200,000 deaths and more than 6.6 million infections.
When an uncommitted voter asked Trump why he downplayed the threat of the virus (which he admitted doing earlier this year during a series of interviews with journalist Bob Woodward,) the president then asserted he had actually "up-played it, in terms of action."
When asked by ABC chief anchor and moderator George Stephanopoulos if he could have done more to stop the virus' spread, Trump said he didn't think so.
When an uncommitted voter from Gibsonia, Pennsylvania, who said she voted for Hillary Clinton in 2016, asked Trump why he doesn't wear a mask more often, Trump attempted to shift the blame on Biden.
"Like, Joe Biden — they said they're going to do a national mandate on masks — he didn't do it, he never did it," Trump said.
He then said, "there are a lot of people [who] think that masks are not good," and when Stephanopoulos pressed him on who exactly those people are, Trump responded, "waiters."
Biden has called for a national mask mandate and said he would implement one if elected. On Tuesday, Scientific American endorsed a presidential candidate, Biden, for the first time in its 175-year history; the magazine's editors in part attributed the choice to Biden's reliance on experts to inform his proposed COVID-19 response.
In response to Trump's comments at the town hall, Biden said in a tweet that he is not currently president, but cheekily added that if voters "chip in now, we can change that in November."
Americans are dying at a faster rate from the virus than they did in the Civil War or World War II. The only deadlier time in American history was during the 1918 Spanish Flu pandemic, which according to the CDC and the American College of Physicians, killed some 675,000 Americans. As of late August, the U.S., contained about 4% of the world's population, but accounted for about 22% of the world's confirmed coronavirus cases — and experts say even that may be a low estimate.
The president was also questioned about his handling of the country's civil rights issues, and the recent demonstrations that have ignited around the country.
Pastor Carl Day of Philadelphia questioned Trump's "Make America Great Again" slogan, alluding to the country's long history of systemic racism.
"Because you say again, we need to see when was that 'great'? Because that pushes us back to a time in which we cannot identify with such 'greatness,'" Day said. "You've said everything else about choking and everything else, but you have yet to address and acknowledge that there has been a race problem in America."
Alexander J. Floyd, who said he voted for Trump in 2016, asked the president how he can "balance common sense police reform without sacrificing public safety."
Trump repeated his attacks on Democrat-run cities, calling them "weak" and "ineffective." When Stephanopoulos pointed out that Trump's leadership and authority extends to those cities, the president said, "I'm president, but I can only do what I'm allowed to do, George. I don't need the Insurrection Act to take care of 250 anarchists. We can do that very easily with a National Guard. We proved that in Minneapolis."
When pressed by Stephanopoulos about the number of Black Americans killed by police, Trump said that the police "have done generally a great job," but some "choke under pressure" — which the president has said previously when addressing police brutality in the country.
A professor from Philadelphia who said she voted for Hillary Clinton in the 2016 election, questioned Trump whether he would ensure health insurance covered her preexisting condition, as the Affordable Care Act has. She clapped back when the president attempted to cut her off.
In response, Trump claimed that he is working on a health care plan that protects people with preexisting conditions, falsely alleging that Democrats would get rid of pre-existing condition protections. But Stephanopoulos pointed out that he "hasn't come up with" a health replacement care plan in his first term as president, though he and the GOP have unsuccessfully fought to repeal and replace the ACA.
After the town hall, Fox News host Laura Ingraham accused ABC News of "ambushing" Trump with questions, which were basic, standard, and timely.
ABC News said it also offered to host a similar town hall with Biden, but the station and Biden's campaign were "not able to find a mutually agreeable date."