Warren Said Bloomberg Told a Pregnant Employee, "Kill It." Here's What Court Docs Say
Bloomberg has denied the incident, saying he "categorically never said it."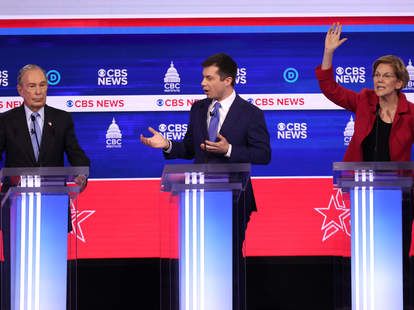 During Tuesday's debate rematch between Sen. Elizabeth Warren and Michael Bloomberg, the former New York City mayor again denied that he once told a former employee to have an abortion.
The exchange at the 10th Democratic Debate in South Carolina began when Warren reupped her demands for Bloomberg to release an unknown number of women who previously worked for his companies from nondisclosure agreements related to sexual harassment. (On Friday, Bloomberg announced that he would release some women from 3 NDAs if they asked.)
Then, Warren cited an anecdote from the '90s — which appears in a criminal complaint shared by the Washington Post — when Bloomberg allegedly told an employee who was pregnant to "kill it." Bloomberg said onstage that he "categorically never said it."
According to the Post, Bloomberg has denied the allegation under oath and reached a settlement with the employee. A third-party witness backed up the allegation to the Post.
The former employee alleged in the complaint that when she told Bloomberg she was pregnant in 1995, he said "Kill it! Great! Number 16!" referring to 16 other women in the company being on maternity-related status. The complaint also said "sexual degradation of women at Bloomberg LP was pervasive."
On the debate stage, Warren connected the alleged incident at Bloomberg's company to an often-cited career moment of hers in 1971, when she says she was fired from a teaching job because she was pregnant.
Bloomberg dismissed Warren's comments as a "sideshow" and said he made "just a comment" or two.
After Bloomberg didn't address Warren's claims that he told a woman to get an abortion, moderator Gayle King stepped in to ask what evidence Warren had. Warren answered: "Her words."
People watching had lots of reactions to the exchange.