"We're In Deep Shit": Ousted Vaccine Director Testifies Before Congress About Trump's Coronavirus Response
"Americans deserve the truth," Dr. Rick Bright told a House committee Thursday after his experience working in the Trump administration's Health Dept.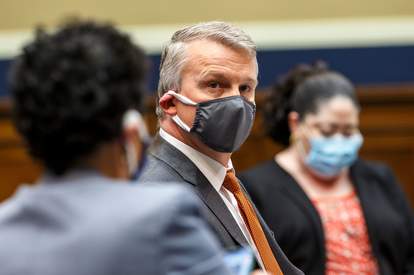 Dr. Rick Bright, a scientist who was ousted from his position by the Trump administration in late April, testified before a House committee on Thursday that the federal government's failure to act early in the coronavirus crisis cost the lives of health care workers.
When asked if there was one specific moment in January — when the first case of COVID-19 was confirmed in the U.S. — that he knew the federal government was bungling the response to the outbreak, Bright said, "I'll never forget the emails I received from [medical supply company owner] Mike Bowen indicating that our mask supply...was completely decimated. And he said, 'We're in deep shit. The world is. And we need to act.' I pushed that to the highest levels of [the Health and Human Services Dept.] and got no response. From that moment, I knew we were going to have a crisis for health care workers because we were not taking action."
Ousted vaccine official Dr. Bright: "I'll never forget the emails I received from (mask maker) Mike Bowen indicating that our [mask supply] was completely decimated. And he said, 'We're in deep shit. The world is. And we need to act.' ... That was our last window of opportunity." pic.twitter.com/34NHzpR6LM

— NBC News (@NBCNews) May 14, 2020
"Lives were endangered, and I believe lives were lost," Bright also said, referring specifically to how the lack of N95 masks hurt American health care workers. He testified before the House Energy and Commerce Subcommittee on Health during a hearing to discuss protecting scientific integrity in response to the coronavirus outbreak.
Q: "It took 3 months from your initial warnings...for the federal government to...require the production of millions more n95 masks...What was the consequence of this 3-month delay? Were lives endangered?"

DR. BRIGHT: "Lives were endangered, and I believe lives were lost." pic.twitter.com/KO7Sv4nkPo

— CAP Action (@CAPAction) May 14, 2020
RICK BRIGHT says people died due to delay in getting N95 masks:

"Doctors and nurses in hospitals today are wearing N95-marked masks from other countries that are not providing sufficient protection…nurses are rushing into hospitals thinking they're protected and they're not." pic.twitter.com/YeQdPbOv5t

— JM Rieger (@RiegerReport) May 14, 2020
Bright was fired from his position as Director of the Biomedical Advanced Research and Development Authority because he put science over "politics and cronyism," he said in a statement at the time. Bright has worked at the agency since 2010 and served as its director since 2016. He was also removed from his position as Deputy Assistant Secretary for Preparedness and Response in the Health and Human Services Department (HHS). He was reassigned to a "narrower" position at the National Institutes of Health, a position which he did not accept. He filed a whistleblower complaint. In a preliminary report released Thursday, the federal government's Office of Special Counsel, which reviews whistleblower complaints, recommended that Bright be reinstated as head of BARDA pending further investigation. The decision is up to Health Secretary Azar, who declined to testify Thursday at the same hearing.
Ahead of Bright's testimony on Thursday, President Trump tweeted that he doesn't know "the so-called Whistleblower Rick Bright...but to me he is a disgruntled employee." During a briefing after Bright's firing in April, Trump claimed he had "never heard of him."
Bright also testified that "without clear planning and implementation of the steps that I and other experts have outlined, 2020 will be the darkest winter in modern history," referring to "unprecedented illness and fatalities...if we fail to develop a national coordinated response, based in science." On Tuesday, Dr. Anthony Fauci of the National Institute of Allergy and Infectious Diseases testified to the Senate that he is concerned about "needless suffering and death" due to states not taking medical experts' warnings seriously and reopening too quickly.
Bowen, the vice president of medical supply company Prestige Ameritech, wrote to top HHS officials on Jan. 22 that his company could "ramp up production to make an additional 1.7 million N95 masks a week," according to Bright's 89-page whistleblower complaint as reported by The Washington Post. The first case of COVID-19 was confirmed in the U.S. on Jan. 21, a day prior, and Prestige Ameritech was already inundated with orders from around the world, from other countries and regions where the pandemic was already raging. The Post reported that Bowen "wanted to give the federal government first dibs," writing in an email, "We still have four like-new N95 manufacturing lines. Reactivating these machines would be very difficult and very expensive but could be achieved in a dire situation." According to Bowen, as well as Bright's whistleblower complaint and testimony under oath, the HHS officials were just not interested. 
The Post quoted a senior U.S. government official who said HHS "didn't have money to do it at that time," but also notes that "even today, production lines that could be making more than 7 million masks a month sit dormant."
Bright said he has spent his "entire career in vaccine development." Given his experience working with infectious diseases and vaccines, former Obama health official Andy Slavitt described his demotion as "pulling Tom Brady in the fourth quarter, with the team down by six."
Watch the entire hearing here: