What is USMCA? Behind The Trade Deal Trump Just Signed Into Law
Here's what to know about the new trade agreement, which will replace NAFTA.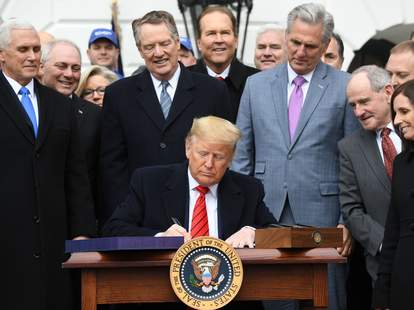 Trump signed a new trade agreement with America's biggest trading partners, Canada and Mexico. The president signed the deal into law on Wednesday, calling it a "colossal victory."
 
The United States-Mexico-Canada Agreement (USMCA) is a revised version of the quarter-century-old North American Free Trade Agreement, or NAFTA. George H. W. Bush, Mexican President Carlos Salinas de Gortari, and Canadian Prime Minister Brian Mulroney agreed to negotiate on what eventually became NAFTA in 1988. The trade agreement was eventually ratified by the three countries in 1993. 
The deal's new measures are designed to encourage auto manufacturing in North America and include stronger protections for workers, The New York Times reported. Other USMCA benefits include giving U.S. farmers more access to Canada's agriculture market and requiring that at least 40% of vehicle production be done by workers who earn at least $16 per hour, which is more than double the federal minimum wage. Many view the bill as an improvement on NAFTA because it strengthens labor laws and includes new benefits for the technology sector.
 
"For the first time in American history, we have replaced a disastrous trade deal that rewarded outsourcing with a truly fair and reciprocal trade deal that will keep jobs, wealth and growth right here in America," the president said during a White House signing ceremony.
 
Although the deal with Canada and Mexico was agreed upon more than a year ago, months of tense negotiations followed. Congressional Democrats eventually supported the bill after revisions, but House Speaker Nancy Pelosi reportedly said that no Democrats were invited to the signing ceremony.