Why Does Louis DeJoy Still Have A Job?
Biden can't fire Postmaster General Louis DeJoy on his own, so lawmakers and ethics groups want him to oust who they see as his enablers: the whole USPS Board of Governors.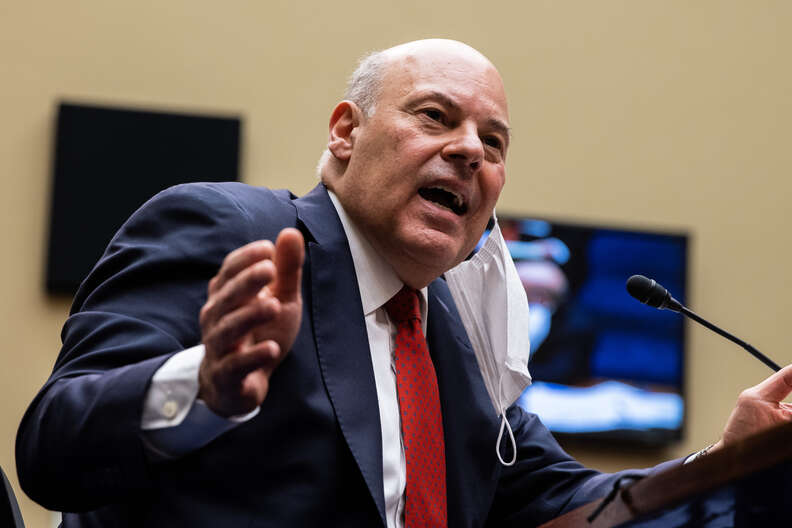 U.S. Postmaster General Louis DeJoy speaks during a House Committee on Oversight and Reform hearing on legislative proposals to put the Postal Service on a sustainable financial footing on February 24, 2021, on Capitol Hill in Washington, D.C.

| Getty Images
U.S. Postmaster General Louis DeJoy speaks during a House Committee on Oversight and Reform hearing on legislative proposals to put the Postal Service on a sustainable financial footing on February 24, 2021, on Capitol Hill in Washington, D.C.

| Getty Images
"If you're wondering why people are still receiving Christmas cards in April, the answer is Louis DeJoy."
This April 7 tweet from Citizens for Responsibility and Ethics in Washington (CREW) is one of many the nonprofit, nonpartisan organization sends about Postmaster General Louis DeJoy on a weekly basis — a practice the group plans to continue until DeJoy is fired or otherwise out of his job. As long as DeJoy is in charge of the U.S. Postal Service, everyone from voting rights advocates to the senior person living in a rural area who wants to receive prescribed medicine on time are concerned that he will wreak lasting damage to the already-struggling federal agency.
Since President Joe Biden took office on January 20, progressive groups and elected Democratic officials have been calling on him to remove DeJoy as chief executive officer of the U.S. Postal Service, the nation's most widely beloved federal agency. DeJoy, a GOP donor and close ally of former President Donald Trump, is the first person in 20 years to take up the role with no prior experience at USPS. He has implemented a number of unpopular policies during his roughly 10-month tenure, including sweeping cutbacks that have resulted in slower mail delivery times — sometimes with monthslong delays. Those delays and the increasing unreliability of the Postal Service became a flashpoint during the 2020 election, in the middle of a pandemic, when Trump repeatedly assailed vote-by-mail in order to suppress votes and falsely claim electoral fraud. DeJoy's simultaneous willingness to gut the agency led to rallies to #SaveTheUSPS and defend the right to vote. During one of several appearances before Congress last year, the embattled postmaster general revealed he did not know the cost of mailing a postcard.
DeJoy also held a multimillion-dollar stake in a Postal Service contractor called XPO Logistics. He was heavily criticized for it after his appointment to Postmaster General and eventually said he would divest the reported $30-75 million interest, but CREW says it could be a "sham divestiture" and there is still a conflict of interest.
Walter Shaub, the former director of the Office of Government Ethics and an outspoken critic of DeJoy, said "the idea that you can be a Postmaster General and hold tens of millions in stocks in a Postal Service contractor is pretty shocking."
On March 23, DeJoy released his 10-year plan for the USPS, an austerity-driven proposal that would cut post office hours, raise prices, and further lengthen delivery timetables, according to The Washington Post and other outlets. The plan met immediate pushback from the public and elected officials and renewed calls for DeJoy's removal.
To be clear, the USPS is in need of a substantive revitalization plan: the agency has been in debt for a decade and has had to deal with the rise of Amazon and a contentious pricing relationship. Yet because both major parties disagree on how best to address these problems, politicians failed to reach an agreement to bail it out at the beginning of the pandemic last year.
Under a new administration, one obstacle to dethroning DeJoy is that Biden can't simply fire him. Under law, the president appoints members to the USPS Board of Governors, whom the Senate must confirm; the board then appoints a Postmaster General. (It's a nine-member board, and each governor can serve a seven-year term and align with a political party — but no more than five of the nine can be from the same party.) The board also has the power to remove the Postmaster General, but DeJoy currently enjoys full support of all current governors, including Republicans and Democrats (the latter include Trump-appointed moderates). So now Democrats are asking Biden to use his legal authority to remove all of the board members, which he can do "only for cause" according to federal statute. Slate describes possible "cause" as showing governors "engaged in malfeasance or extreme neglect of duty," which Democratic lawmakers believe has been proven.
The current board of governors is made up of all men, zero Black people, and no one from a rural area, where people live who often rely on the Postal Service the most for essential deliveries.
There are currently three vacancies on the board, and Biden has already nominated three people to fill those positions: Amber McReynolds, a voting rights advocate who co-wrote a book called "When Women Vote"; Ron Stroman, a Black attorney who previously served as deputy postmaster general; and Anton Hajjar, an Arab American who served as general counsel for the American Postal Workers Union. They are awaiting a Senate vote, which has yet to be scheduled as of April 9.
Even if all three of Biden's nominees are confirmed, and ready to vote against DeJoy, a majority vote of the board is required to remove him. On March 25, Sen. Tammy Duckworth (D-IL) wrote to the board and asked them once again to fire DeJoy based on his recently released proposal.
"Failure to remove PMG DeJoy will confirm my worst fears about each Member of this Board of Governors. Namely, that you are unwilling to admit error and thus incapable of fixing a grave mistake," Duckworth wrote. "There are no excuses left for inaction. This week the PMG revealed his horrific vision for USPS over the next 10 years. It is also absolutely clear that this Board of Governors should fire PMG DeJoy immediately. Not tomorrow, not next week. You must fire Louis DeJoy now."
On April 5, board chairman Ron Bloom, a Democrat, wrote back to Duckworth on behalf of the board and doubled down on his support for DeJoy and the 10-year plan — confirming her worst fears.
"The Governors selected Louis DeJoy as Postmaster General because we believed a transformational leader was crucial in order to position the Postal Service for long-term success," Bloom wrote, adding that DeJoy "continues to enjoy the Board's full support as he carries out our 'Delivering for America' plan."
Bloom did not address specific criticisms from Duckworth or others about the details of the plan, saying only that "some elements of our plan may be isolated for critiques in the coming weeks," but he hopes people examine the plan "in totality." He also called continuing the status quo "an impending disaster," the only point on which all parties seem to agree.
Duckworth shared Bloom's response on Twitter and reupped a request she sent President Biden in February to replace the entire board.
The American Postal Workers Union, which includes around 200,000 employees, said in a statement that the 10-year plan contains "both positive attributes as well as some as some proposals that should be of concern to postal workers and customers," NPR reported.
Expressing "deep concerns," the union said "any proposals that would either slow the mail, reduce access to post offices, or further pursue the failed strategy of plant consolidation will need to be addressed."
The Save the Post Office coalition, described by NPR as made up of labor and progressive groups, minced no words in their response: "Asking Louis DeJoy to make a ten year plan for the post office is like asking the fox to build a better henhouse. After his record of destruction, incompetence and self-dealing over the last nine months, the only plans he's qualified to make at this point are his own retirement plans."
In addition to Sen. Duckworth, 53 House Democrats signed a letter on March 18 asking Biden to fire the entire current board.
"The entirely Trump-appointed Postal Service BOG has politicized the most beloved agency in the federal government and allowed its service standards to tank," they wrote, then cited data from the USPS: in December 2020, first-class mail on-time delivery rates averaged 52.4% in the Northern Virginia Postal District, 55.1% in the Richmond Postal District, and 67.0% in the Appalachian Postal District.
"The Postal Service leadership might argue these unacceptable on-time delivery rates are an unfortunate side effect of the COVID-19 pandemic," the House Dems' letter continues. "The Postal Service is in free fall."
A lesser-known problem with the current board that the House Democrats' letter calls attention to are "rampant conflicts of interest" — not just of DeJoy, but of other governors on the board. One of them, Robert Duncan, is on the leadership board of two super PACs, "prompting concerns about his role in politicizing the Postal Service during the election," while another, William Zollars, was CEO and president at a company that received a $700 million loan from the federal government last summer — and is currently embroiled in a lawsuit with the Department of Defense over allegations that it overcharged the government millions of dollars.
"The Board has remained silent in the face of catastrophic and unacceptable failures at a moment when the American people are relying on the Postal Service the most. It is time to remove all governors and start over with a board vested with the expertise and acumen this nation needs in its Postal Service leadership," the House Democrats' letter reads.
There's some disagreement between Democratic lawmakers and a handful of legal experts on whether the current mismanagement and conflicts of interest constitute enough "cause" for Biden to fire the board, but elected officials continue to push for accountability. The Biden administration has not commented recently on the latest requests.
On April 6, the CREW account summed up their feelings in another tweet: "We're running out of ways to say fire Louis DeJoy, so please just fire him already, for our sake."