Why Joe Biden Was Awarded One Electoral Vote In Nebraska Without Winning The State
Nebraska is one of two states that allows its electoral college votes to be split — due to a system that is still in place today thanks to long-time state legislator Ernie Chambers.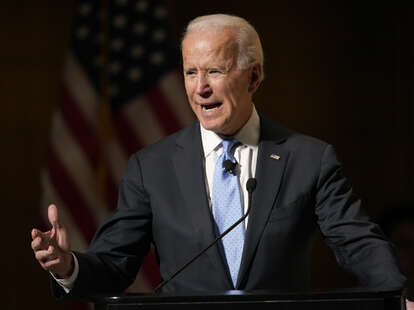 Democratic presidential candidate Joe Biden on Tuesday was awarded one of Nebraska's five Electoral College votes, even though President Trump won the conservative state. Biden, who has maintained an electoral and popular vote lead over Trump, was able to take one electoral vote in Nebraska because he won Nebraska's Omaha-based 2nd Congressional District.
In almost all U.S. states, the presidential candidate who wins the popular vote also wins all the Electoral College votes. But Nebraska is one of two states, including Maine, that allow splitting of the Electoral College, if election results permit.
In Maine and Nebraska, the "Congressional District Method" allocates two electoral votes to the winner of the state's popular vote, then allocates one electoral vote to the popular vote winner in each Congressional district in the state (Nebraska has three districts, and Maine has two).
Since Trump won in two Nebraska districts, and won the overall popular vote, he was given four of the state's electoral college votes. But since Biden won the Omaha district, he won one of the state's votes.
Nebraska adopted the distribution system it uses in 1991. Before Biden, the state's votes had only been split one other time for former President Barack Obama in 2008. Republicans have long opposed the system, viewing it as a gain for Democrats votes in a mostly red state. They almost overturned the system in 2016 — but soon-to-be-retired state legislator Ernie Chambers played a large role in saving it.
Republican lawmakers tried to return Nebraska to a winner-take-all system with a bill called Legislative Bill 10, but it fell one vote short of being passed. Chambers, an Independent who has served on and off in the state's legislature since the 1970s, filibustered the vote, ultimately leading to the continuation of the distribution method.
Many people online have tweeted about and praised Chambers, whose legislative efforts led to the survival of a system that could help Biden claim victory in the 2020 election. The praise spanned from a tweet thread by Dr. Andrew R. Schrock of Chamber's inspiring life, fashion choices, and legislative tenure — which involved a notable lawsuit against God to prove a point about frivolous lawsuits.
In Maine, Biden won three of the state's four electoral votes, while Trump won one.
As of November 5, neither President Trump nor Democratic nominee Joe Biden has been named a winner in the 2020 election. As several key states in the race continue to be a toss-up, many Americans are emphasizing the importance that every vote be counted to fairly call a winner in the race.