Will Biden & Sanders Pick A Woman VP? At Dem Debate, It Sounded Like It
One said yes, and the other sort of said yes.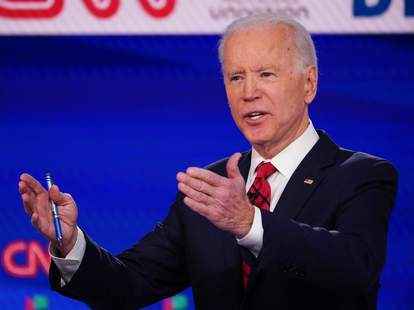 At Sunday's debate, Bernie Sanders and Joe Biden were both asked whether they'd choose a woman to be their running mate — one said yes and the other sort of said yes.
When Biden was asked if he was committed to picking a woman running mate, he explicitly said "yes."
"If I'm elected president, my cabinet, my administration will look like the country and I commit that I will, in fact, appoint a woman to be vice president," he said.
When Bernie was asked, he said, "in all likelihood."
"For me, it is not just nominating a woman — it is making sure that we have a progressive woman, and there are progressive women out there," he clarified.
Questions were also fielded from undecided voters around the country, one shown via video. Amy Langenfeld from Chandler, Arizona, asked how Sanders' cabinet would get the best advice to pass policies that protect and empower women in the country. Sanders said he would make a cabinet that reflected the country's population, over half of which are women. When posed the same question, Biden said that, if given the opportunity to elect a member of the Supreme Court, that he would elect a woman of color.
Both candidates have come under pressure to choose a woman as their running mate, especially after Sen. Elizabeth Warren (D-MA) dropped out of the presidential race despite a strong campaign early on. The choice of running mate for Sanders and Biden also holds a higher significance due to their age, with both of them nearing 80.
Several names have been floated recently as possible Biden running mates, including former Deputy Attorney General Sally Yates as well as former Georgia gubernatorial candidate Stacey Abrams.