Woman Who Flipped Off Trump Motorcade Wins Election in Virginia
After being forced to leave her job because of a viral photo of her giving Trump the finger, Juli Briskman ran for county board of supervisors in Virginia and won.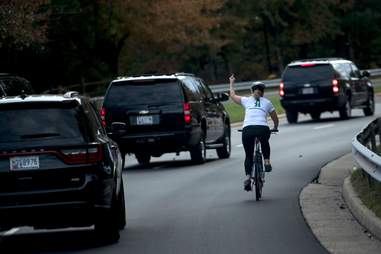 Getty
A woman who was fired for famously flipping off President Trump's motorcade in a photo ran for county board of supervisors in Virginia and won.
Juli Briskman was the center of a viral photo from 2017 of her riding a bike and giving Trump's motorcade the middle finger as it drove back to the White House from his Sterling, Virginia golf course. Because of the photo, Briskman said she was forced to resign from her position as a marketing executive at Akima LLC. 
 
Now—she has won the spot of supervisor for Algonkian District in Loudoun County, Virginia, and she gave a nod to the image during her campaign. Briskman announced her candidacy on Twitter in September 2018, using the photo that caused her to lose her job.
Briskman told CNN at the time that her "finger said what I was feeling, I'm angry and I'm frustrated."
Virginia just flipped its once Republican-dominated state legislature, with Democrats taking control of both chambers for the first time in 22 years.