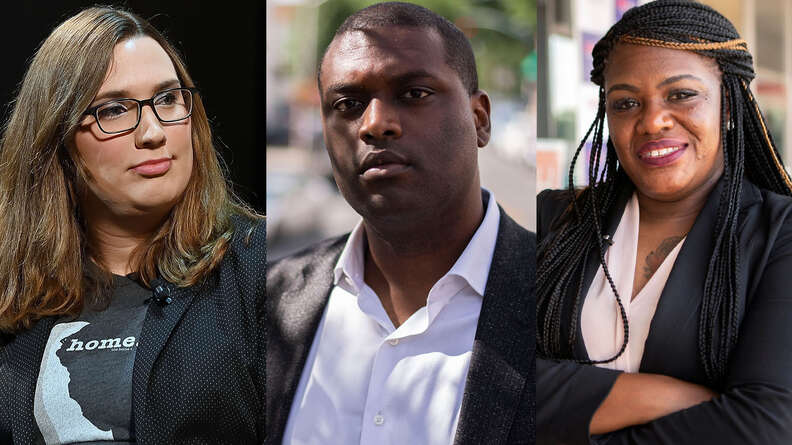 The final results of the 2020 presidential election are still being determined — but several history-making wins around the country have already been reported. Below are some of the historic firsts to come out of the 2020 election.
Marilyn Strickland —
Former Tacoma, Washington Mayor Marilyn Strickland's projected win against fellow Democratic challenger Beth Doglio for the state's 10th congressional district will make her the first Korean American woman elected to U.S. Congress. She will also be the first Black person to represent Washington at the federal level.
Nikil Saval —
In an uncontested race, writer and activist Nikil Saval became the first Asian American elected to the Pennsylvania state senate.
"Thanks to dedicated staff, hundreds of volunteers, and thousands of supporters, we won," Saval tweeted on Wednesday.
Sarah McBride —
Activist and former Human Rights Campaign spokesperson Sarah McBride (D) beat Republican candidate Steve Washington in Delaware's 1st district Tuesday to become the country's first out transgender state senator.
"I hope tonight shows an LGBTQ kid that our democracy is big enough for them, too," McBride tweeted Tuesday. "As Delaware continues to face the Covid crisis, it's time to get to work to invest in the policies that will make a difference for working families."
McBride also made history before her state senate win. In 2016, she became the first transgender person to speak at a major party convention, when she spoke out against LGBTQ+ discrimination at the Democratic National Convention.
Mondaire Jones —
Democratic candidate Mondaire Jones defeated Republican Maureen McArdle Schulman in New York's 17th congressional district, to become one of the first two out gay Black men to serve in the U.S. House of Representatives. The other was Democratic New York City Council member Ritchie Torres, who beat Republican challenger Patrick Delices for New York's 15th congressional district.
Kim Jackson —
Democrat Kim Jackson beat Republican opponent William Freeman in Georgia's 41st district to become the first out LGBTQ+ state senator in Georgia.
"There has never been an openly LGBTQ State Senator in Georgia, and it shows by the bigoted bills they've passed," the LGBTQ Victory Fund said of Jackson on Twitter Tuesday. "Our Spotlight Candidate Kim Jackson's win tonight changes that."
Torrey Harris —
Democrat Torrey Harris defeated incumbent candidate John Deberry, who has held the District 90 Tennessee House seat since 1994, becoming one of the first two out LGBTQ+ Tennessee lawmakers. The other will be Republican Eddie Mannis, who will replace GOP Rep. Martin Daniel in District 18 for the Tennessee House of Representatives.
Madison Cawthorn —
25-year-old Republican Madison Cawthorn's win against Democratic Col. Moe Davis for North Carolina's 11th congressional district makes him the first member of Congress born in the 1990s and the youngest member of Congress in modern history. Cawthorn also faced intense scrutiny after multiple reports of unwanted sexual behavior came out during his campaign.
Cori Bush —
Black Lives Matter activist Cori Bush beat Republican challenger Anthony Rogers Tuesday in the race for Missouri's 1st congressional district, becoming the first Black woman to represent the state in Congress.
"As the first Black woman and also the first nurse and single mother to have the honor to represent Missouri in the United States Congress, let me say this," Bush said during her victory speech. "To the Black women, the Black girls, the nurses, the essential workers, the single mothers: This is our moment."