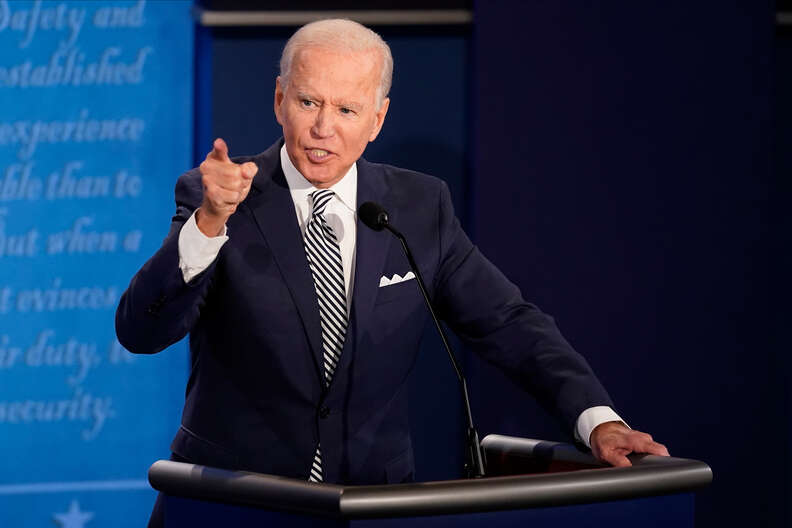 Democratic presidential nominee Joe Biden participates in the first presidential debate against President Donald Trump at the Health Education Campus of Case Western Reserve University on September 29, 2020 in Cleveland, Ohio. (Photo by Morry Gash-Pool/Getty Images)
Democratic presidential nominee Joe Biden participates in the first presidential debate against President Donald Trump at the Health Education Campus of Case Western Reserve University on September 29, 2020 in Cleveland, Ohio. (Photo by Morry Gash-Pool/Getty Images)
President Trump's tax returns, or lack thereof, were in the spotlight at the first presidential debate Tuesday night, as moderator Chris Wallace pushed him on the shocking revelation from The New York Times this week that Trump paid just $750 annually in federal income taxes in 2016 and 2017.
Trump unsurprisingly deflected while also claiming he has "paid millions" in federal income taxes — and admitted wanting to avoid doing so — prompting another tense exchange (one of many) with Democratic presidential nominee and former Vice President Joe Biden:
After Wallace asked the question again about Trump's taxes, the president admitted: "I don't wanna pay tax, before I came here I was a private developer, I was a private business people. Like every other private person, unless they're stupid, they go through the laws and that's what it is."
Biden said, "He says he's smart because he can take advantage of the tax code, and he does take advantage of the tax code. That's why I'm going to eliminate the Trump tax cuts … and make sure that we invest in fact in the people who need the help. People out there need help."
Trump interrupted Biden and asked repeatedly, "Why didn't you do it in the last 25 years?"
"Because you are president, screwing things up," Biden responded, but the president kept talking over him, at which point Biden said, "You are the worst president America has ever had. Come on."
Even staunch right-wing commentator Bill O'Reilly, who regularly comes to Trump's defense, called out Trump's deflection:
"Show us your tax returns," Biden said twice as Trump stumbled through his answer to Wallace's question.
Hours before the debate on Tuesday, Biden posted his 2019 federal and state tax returns on his official campaign website, along with those of his running mate, Sen. Kamala Harris (D-CA). Biden's tax returns for years prior to 2019 were already publicly available. Trump has broken with decades of precedent and refused to release his tax returns despite saying he would do so.
Biden's returns showed that he has paid 400 to 2,000 times more than Trump in federal taxes, depending on the year.