YouTube Suspends Trump As Latest Big Tech Company To Deplatform The President
Trump supporters pose a continued threat of violence that is only becoming more concerning for law enforcement ahead of next week's inauguration.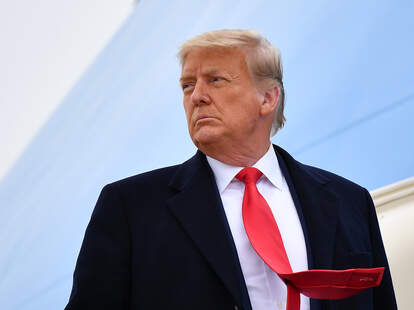 YouTube on Tuesday became the latest platform to restrict President Donald Trump in the wake of last week's deadly U.S. Capitol riot. After YouTube's ban was announced, multiple outlets reported that Snapchat would permanently ban Trump on January 20, the day his term ends.
YouTube, which is owned by Google, announced Tuesday that it removed content that President Trump posted "in light of concerns about the ongoing potential for violence." YouTube, where the president has more than 2.7 million subscribers, said that Trump will be banned for at least seven days, and that his account has its first strike, in line with the platform's policies.
As federal law enforcement make arrests and file charges connected to the January 6 attack, officials are also remaining vigilant about the continued threat of violence by the president's supporters, especially surrounding President-elect Joe Biden's inauguration on January 20. Meanwhile, House Democrats have this week moved to impeach Trump for a second time.
Late Tuesday, YouTube wrote in a tweet: "We will also be indefinitely disabling comments on President Trump's channel, as we've done to other channels where there are safety concerns found in the comments section."
Earlier that day, the president posted a video from a news conference that appeared on YouTube, in which he took no responsibility for inciting a mob to commit violence at the seat of the U.S. government.
"People thought that what I said was totally appropriate," Trump said in the video. He also said that Democrats' impeachment proceedings are "causing tremendous danger to our country and tremendous anger."
CNBC reported that YouTube also gave a warning to the White House account and removed some of its videos.
Other platforms including Twitter and Facebook have taken action to ban the president. Twitter has banned the account @realdonaldtrump permanently, while Facebook has said it will ban Trump "indefinitely and for at least" his presidential term is over next week. Separately, the social networking site Parler, a known haven for President Trump's most fervent supporters, has gone offline after Amazon kicked the website off of its platform and Apple and Google removed the app from stores.
The actions by tech companies thus far do not completely prevent Trump supporters from posing further risks: they have taken to other encrypted messaging apps including Signal and Telegram, the New York Times reported.
This article has been updated to include news about Snapchat's plans to ban Donald Trump.