BTS Ends Hiatus With A New Album And "Comeback Map"
The K-pop supergroup collaborated with some major names for the album and will also be the center of a new drama series set to be released later in 2020.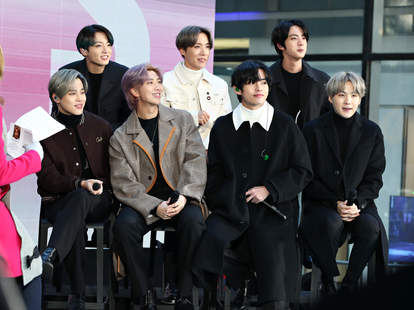 K-Pop super group BTS is back after taking a six-month hiatus, starting the new decade off by dropping a new album with two major collaborations.
The Korean band dropped "Map of the Soul: 7" on Friday after teasing the album to its huge international fanbase in January and releasing the song, "Black Swan." With the help of a "comeback map," BTS gave a layout of dates that include the release of their new single, "On," appearances around the world, and the album and music video release dates. 
2020 looks like it will be a huge year for the megagroup, whose rise to international stardom has been swift and intense —  which was ultimately the reason BTS took a hiatus in August 2019, citing the need for a "an extended period of rest." Big Hit Entertainment, the group's record label, said in a statement at the time that the break would "provide them with a chance to enjoy the ordinary lives of young people in their 20s, albeit briefly."
The 20-track album will include their hit collaboration with Halsey on the song "Boy with Luv," and another remix of their single "On" featuring Sia. The album follows their 2019 EP, "Map of the Soul: Persona," which included "Make it Right," featuring Lauv. BTS also worked with Charli XCX right before their summer hiatus.
Next up on the "comeback map" is the drop of the music video for their single, which is expected to come out February 28. In the second half of 2020, a drama series is set to come out that will tell the story of the band's formation and their skyrocket to global stardom. The series won't feature any of the seven members of BTS themselves, but will give insight into their careers. 
BTS has sold out arenas worldwide, and has become an international phenomenon with immense popularity in the states — which had been resistant to Korean pop music up until recent years. BTS has been featured on several late night talk shows and award shows including the American Music Awards and Saturday Night Live. They've also broken several records, including the most viewed music video online within 24 hours.