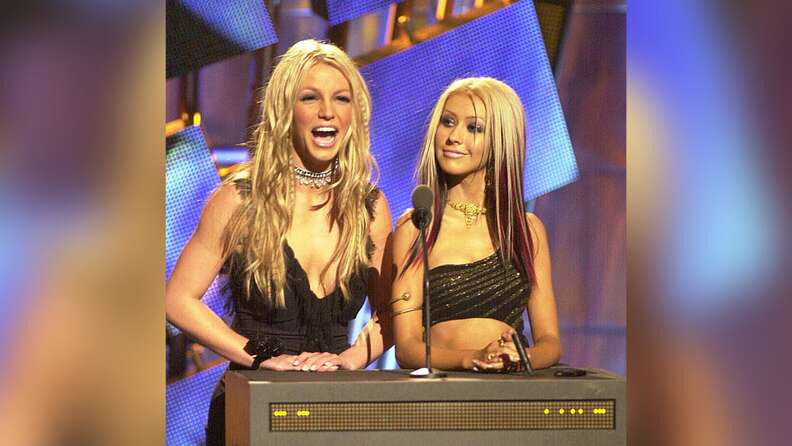 Christina Aguilera took to social media on Monday to offer her support to Britney Spears in the wake of the "Toxic" singer's ongoing battle against the conservatorship that controls her life.
Aguilera, who skyrocketed to pop star fame in the early 2000s alongside Spears, tweeted her kind words with a photo of the pair when they were kids. Aguilera and Spears have known each other for years, starting back in the 1990s when they were both performers on "The Mickey Mouse Club" — along with Justin Timberlake, Ryan Gosling, and others.
"These past few days I've been thinking about Britney and everything she is going through," Aguilera tweeted. "It is unacceptable that any woman, or human, wanting to be in control of their own destiny might not be allowed to live life as they wish."
Spears addressed a Los Angeles court last week and pleaded with the judge to lift the "abusive" conservatorship that has given her father, Jamie Spears, total control over her finances, professional, and personal decisions since 2008. Spears gave the public a glimpse of her perspective on the legal agreement for the first time, which she called "embarrassing and demoralizing."
"To be silenced, ignored, bullied or denied support by those 'close' to you is the most depleting, devastating and demeaning thing imaginable," Aguilera continued. "The harmful mental and emotional damage this can take on a human spirit is nothing to be taken lightly."
Aguilera's statement is significant as both pop stars were often pitted against each other during their rise to fame in the early aughts. The competition led to an alleged on-again, off-again feud, with both singers making comments about each other to the press on different occasions throughout the years. Aguilera and Spears seemingly put their differences aside later on, when Aguilera offered support to Spears as she was going through a very public divorce in 2007. Aguilera also sang one of Spears' songs during an appearance on James Corden's "Carpool Karaoke."
"While I am not behind the closed doors of this very layered & personal yet public conversation – all I can do is share from my heart on what I've heard, read and seen in the media," Aguilera wrote.
Aguilera has continued to work as an artist and performer with her most recent album, "Liberation," coming out in 2018. She also previously worked as a coach on NBC's "The Voice" for six years.
She continued: "To a woman who has worked under conditions and pressure unimaginable to most, I promise you she deserves all of the freedom possible to live her happiest life. My heart goes out to Britney. She deserves all the TRUE love and support in the world."