Demi Lovato Reflected on Coming Out to her Parents
In a candid interview, Lovato spoke openly about coming out to her parents.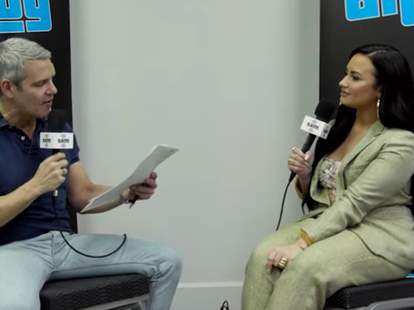 In a new, candid radio interview, Demi Lovato spoke openly about coming out to her parents.
Lovato opened up about the "beautiful" conversation she had with her parents in 2017 while on Andy Cohen's SiriusXM show, "Radio Andy." 
The musician and actress recently shared that she wants to start a family sometime within the next 10 years but is unsure if she sees a long-term relationship with a man or a woman.
"I'm still figuring it out," said Lovato. "Like, I didn't officially tell my parents that I saw myself ending up possibly with a woman too, until like 2017."
"And how did that go?" Asked Cohen.
"It was actually emotional, but really beautiful. And after everything was done, I was like shaking and crying. I just felt overwhelmed," said Lovato.
She also added that her parents were extremely supportive of her.
"My dad was like 'yeah obviously' and I was like woah ok, Dad. He said like, 'hello, 'Cool for the Summer,' and I was like 'ok, I get it,'" said Lovato.
Lovato said she was "super nervous" about telling her mom about her sexuality.
"She was like 'I just want you to be happy' and that was so beautiful and amazing and like I said, I'm so greatful."
Lovato's interview comes during her  return to the spotlight, following a long hiatus due to a reported drug overdose in 2018. She had a critically acclaimed comeback performance at the 2020 Grammys on January 26, and will also be singing the national anthem at this year's Super Bowl on February 2.