Op-Ed: "Framing Britney Spears" Pops the Bubble on How We Overlooked '90s Misogyny
Of course Britney Spears was the subject of persistent misogyny. But why does seeing it all through fresh eyes cut so deep?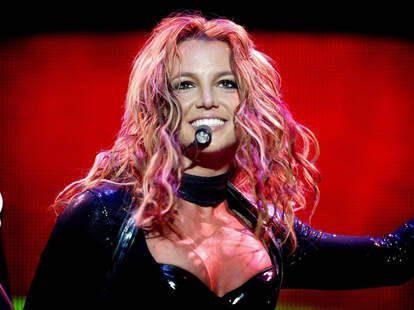 For those of us who grew up with Britney Spears' music, the new documentary that lays out her loss of personal agency for the last decade-plus is hard to watch — especially for fans, who may have honed their confidence and authority by listening to a song like "My Prerogative." Aside from the strict legal conservatorship depicted in "Framing Britney Spears," the New York Times documentary which now has celebrities tweeting "Free Britney" alongside longtime fans, the backdrop of media and society behind Spears' life and career in the '90s and early 2000s feels distinctly insidious — and demands a fresh look.
Following a decade where reviling women was so en vogue that much of American society sided with the U.S. president over an intern with whom he had sexual relations, it should come as no surprise that Britney Spears also felt the brunt of deep, unrelenting misogyny.
So why, 20-odd years later, are we so surprised?
Watching the interview clips of veteran journalists grilling a 20-something pop star over a breakup and her sexuality was particularly jarring. Those journalists included ABC's Diane Sawyer and Matt Lauer, who was fired from NBC during the #MeToo scourge of 2017 over sexual assault allegations (and yet he's always reportedly plotting a comeback).
Hearing Sawyer ask Spears in a 2003 interview, "What did you do?" regarding her highly publicized breakup with Justin Timberlake, was like hearing a master class in puritanical, highly-paid trolling. My roommate and I were slack-jawed when Sawyer then normalized a comment from the first lady of Maryland about wishing she could "shoot Britney Spears." Sawyer stepped down as an ABC anchor in 2014, but still occasionally contributes to the network. As for Lauer, Glamour reported that we didn't even get the most brutal bites of his 2006 interview, during which he served a spitball of unattributed questions to which Spears was expected to respond. The inquiries he cited as "questions being asked" — without saying who was asking them — included: "'Is Britney a bad mom?' It's not like, 'Did Britney record a bad song?' 'Is Britney wearing a bad outfit?' 'Is Britney in a bad marriage?' 'Is Britney a bad mom?'" Given we can now say "yes" to "Is Matt Lauer a serial predator?" those specific moments cut even more deeply. These people were professionals who were defining national coverage of Spears and history; as journalists, we were supposed to be taking our cues from them.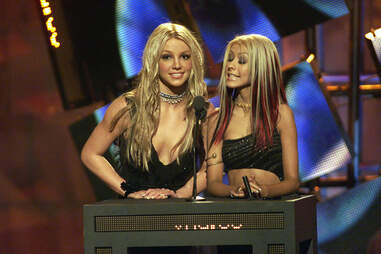 Britney Spears (left) and Christina Aguilera at the 2000 MTV Video Music Awards at Radio City Music Hall in New York City.

| Getty Images
How in the world did Spears get stomped on so publicly, harassed by paparazzi so ruthlessly, then blamed for other people's speculation about her mental health? Our country's institutions, from media to government, have long torn down young women when they've been on the rise, while men are treated as irreplaceable. After all, how did Mr. "When You're A Star, They'll Let You Do Anything" become the leader of the free world?
The repentant chatter around Spears since the documentary was released on Hulu and FX on February 5 has even led people to do further digging about Spears' contemporaries (remember Christina, Jessica, and how they all had to be at odds?). Some on Twitter have been unpacking a 2005 Rolling Stone article about Lindsay Lohan when she just turned 18 — that opened with a query about her breasts.
If you have dipped your toes into feminist revisionist history (reader, I have), then you've seen narrative-correcting work such as the Spears documentary before: For instance, we're admitting America was painfully cruel to Anna Nicole Smith. Monica Lewinsky? Now beheld as a hero. Jane Fonda? Ahead of her time. Lorena Bobbitt? The tabloids, they were vicious.
In an example ever more searing during the Trump presidency, we've recently talked a lot about Anita Hill. A few months ago, we watched Sen. Dianne Feinstein (D-CA) hug Sen. Lindsey Graham (R-SC) after Amy Coney Barrett's fire-drill of a confirmation. Feinstein was galvanized to run for office after she watched Hill testify to a male-dominated Senate in 1991 that her powerful boss, Supreme Court Justice Clarence Thomas, had sexually harassed her. Nearly 30 years later, Feinstein was criticized for not doing more to stop the anti-feminist Barrett from hastily replacing feminist legend Ruth Bader Ginsburg on the court.
And that was after we watched side-by-side images of Hill and Dr. Christine Blasey Ford, who testified that Supreme Court Justice Brett Kavanaugh sexually assaulted her when they were teens, flutter across our Instagram feeds. President Joe Biden, then a senator who presided over Hill's hearings, just won the election to replace a reality television star who defeated a woman despite facing more than a dozen allegations of sexual misconduct. As Rebecca Traister wrote after Biden's inauguration, "Things fall apart and yet the center can hold. It holds and holds and holds."
As for Spears, she had an even more damning reflection on our nation about 15 years ago when Lauer invasively pressed her on society's obsession with her parenting: "That's America for you."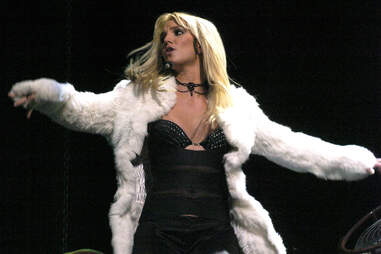 Getty Images
Through "Framing Britney Spears," I've learned more about the America of the '90s and early 2000s, a time I associate with culturally but was far too young to fully understand. Watching the documentary was another bleak reminder of how badly society has long wanted to see young women fail, to kick them when they're down, and then refuse to even let them attempt to pick up the pieces.
On a pure note, Spears' music conjures a personal image of me as a third-grader, singing "I'm A Slave 4 U" on a karaoke machine in my parents' basement. What feels so jarring for me, a millennial, is how the cultural messages to girls my age at the time — that you could supposedly grow up to do whatever you want — hang in stark contrast to how famous young women like Spears were treated. I haven't had to work too long in an industry dominated by men to recognize it can feel more logical and productive to quit or lash out than to keep fighting for a fair shake.
One hopeful thing: the documentary's director, Samantha Stark, was asked in a New York Times Q&A on Reddit about how the same media outlets that "harassed, stalked and vilified" Spears are now "writing think pieces about how the media destroyed her." How do you hold an industry like that accountable? Well, Glamour apologized, which is a start, but that's a tough question. Stark could at least point to the ranks.
"When Britney was being shamed for her sexuality as a teenager and stalked as a young adult the gatekeepers to all these media outlets -- the ones doing the shaming -- were in their 30s, 40s, 50s. We as teenagers watched that happen."
She continued: "Now that my/our generation are a lot of the gatekeepers, we're saying no more."