'House Hunters' Features Its First Throuple
Fans are head-over-heels for the episode that featured three people involved in a polyamorous relationship.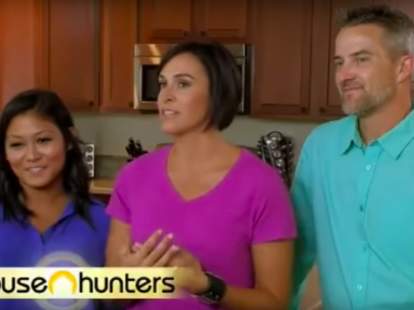 HGTV proved in a new episode of "House Hunters" that love and real estate come in many forms—including this throuple.
On Wednesday night, the popular reality show featured three people in a polyamorous romantic relationship looking for their dream home. The episode was titled "Three's Not a Crowd in Colorado Springs," and told the story of Brian, Lori, and Gelli. The description of the episode says, "The house hunt becomes difficult with only one week to satisfy three very different personalities."
According to the episode, Brian and Lori have been legally married since 2002 and have two children together. They met Geli at a bar later in their relationship and eventually had a commitment ceremony to each other in Aruba.
"I understood from day one, even when we were dating, that Lori was bisexual," Brian said during the episode. "And so we evolved to a point where we were comfortable having another woman in our lives."
Geli said she didn't plan on getting involved with a married couple but that it happened "very naturally, organically."
As with most couples on House Hunters, Brian, Lori, and Geli had their own unique needs—including a master bedroom that could accommodate three people and a bathroom with three sinks.
The episode gained a lot of attention online from fans of the show commenting on how "progressive" HGTV is for featuring a throuple.
Psychology Today defines polyamory as "the practice of having multiple intimate relationships, whether sexual or just romantic, with the full knowledge and consent of all parties involved." A 2016 study showed that one in five Americans have been involved in a consensual open relationship in their lifetime.