Mindy Kaling Will Co-Write "Legally Blonde 3" Starring Reese Witherspoon
Kaling will co-write the script with Dan Goor, co-creator of "Brooklyn Nine Nine," Deadline first reported.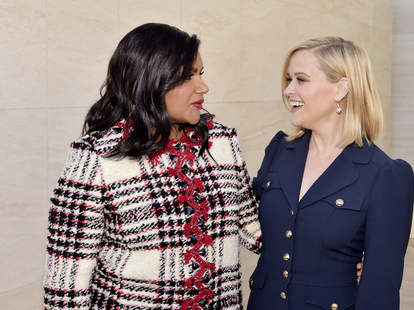 The pop culture gods seem to be shining upon us in this quarantine moment: Mindy Kaling is set to pen "Legally Blonde 3" starring Reese Witherspoon.
Kaling, a producer, actor, and comedian, will co-write the latest installment about beloved, endlessly humane attorney Elle Woods, along with Dan Goor, co-creator of "Brooklyn Nine Nine," Deadline first reported. Kaling also posted the Deadline report on Instagram.
Witherspoon first announced the third installment of the series in 2018 with an aptly fitting post: floating around in a pool in the style of Woods' Harvard Law application. It's been nearly 20 years since the debut of "Legally Blonde" in 2001, which grossed more than $140 million at the box office worldwide. Viewers last saw Woods taking Washington, D.C., in 2003's "Legally Blonde 2: Red, White & Blonde."
This time around, Witherspoon will also produce the forthcoming movie through her media company Hello Sunshine ("Big Little Lies," "The Morning Show," "Wild"), along with returning producer Marc Platt, according to Deadline.
Kaling and Goor will bring many accolades of their own to the new spin on a sorority girl-turned-lawyer who uses her powers for the forces of good. Kaling has gone from acting in sitcoms such as "The Office" and "The Mindy Project," which she also created, to co-creating the Netflix series "Never Have I Ever," based on her own childhood. Goor is a veteran late-night comedy writer for "Late Night With Conan O'Brien" and "The Daily Show," for which he's won Emmys, as well as a "Parks and Recreation" alum. Kaling and Witherspoon have on-screen history after co-starring in 2018's "A Wrinkle in Time."
Details of the new production's storyline are scant, and the premiere date has not yet been announced. Given viewers last saw Woods in D.C., we can't help but wonder how she'd fare near a White House whose administration promotes conspiracy theories and axes whistleblowers.
In the meantime, to use Woods' parlance in terms of Kaling's prolific writing and production creds as of late: "What, like it's hard?"