"Schitt's Creek" Series Finale Was the Uplifting Ending Everyone Needed
The cast, crew, and fans all had emotional reactions after Tuesday night's finale, which wrapped up six seasons of a beloved TV show.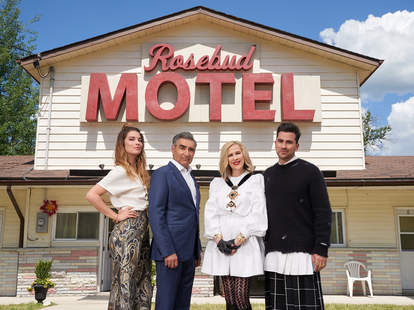 The cult phenomenon "Schitt's Creek" came to end on Tuesday night, leaving its fans with a bittersweet conclusion, while also giving a behind-the-scenes look into the show.
During its six season run on PopTV, the Canadian sitcom about the dysfunctional-yet-charming Rose family soared in popularity. The episode was followed by an hour-long documentary called "Best Wishes, Warmest Regards: A Schitt's Creek Farewell," which gave fans a peek into the cast and crew working on set, table reads, final scenes for the actors, and other emotional moments. It also showed letters written to co-creator Dan Levy—who played David Rose— from a group of moms of LGBTQ+ children thanking him for showing a queer character and same-sex marriage on the show. 
Levy and other actors from the show thanked fans for their dedication:
A stirring SERIES-ENDING thank you to our BRILLIANT cast & crew, @CBC , @PopTV ,@ITV and @netflix. But our biggest, STRAIGHT FROM THE HEART thank you goes to our beloved FANS! Couldn't have done it without you!❤️Finale 8pm. Finale Special 8:30. @SchittsCreek @SchittsCreekPop

— Eugene Levy (@Realeugenelevy) April 7, 2020
As expected, fans of the show reacted strongly to the series ending, giving praise to the show's creators and what it meant to them:
That was the perfect ending. 😍Thank you so much for sharing this amazing show with us. Much love. ❤️❤️

— meredith (@mhl1115) April 8, 2020
The @SchittsCreek series finale was perfection. So sad to see this beautiful show go. I'll be rewatching for years to come. ❤️ you @danjlevy!

— Jesse Tyler Ferguson (@jessetyler) April 8, 2020
People even mentioned how the finale came at a particularly stressful time and was a much-needed distraction:
For the first time in 3 weeks, I haven't worried. It's like @danjlevy knew we would need this right now...an epically beautiful finale. What a perfect show! I'm sad it's over, but I so needed this tonight. (I also want people singing at my wedding like that) #SchittsFinale

— Alex Ficquette (@alexontheplaza) April 8, 2020
So glad I finally watched Schitt's Creek this year. The kindness, empathy and growth is what our world needs and it just makes me want to build a better one. #SchittsFinale

— Jennifer Hoegg (@jennhoegg) April 8, 2020
perhaps i just needed to cry anyway but the series finale & wonderful wrap up really hit me hard @SchittsCreek brought us together in a time when so much is uncertain thank you dearest @danjlevy you beautiful brilliant human being

— Sandra Bernhard (@SandraBernhard) April 8, 2020
It's almost 3am. I've drank a bottle of wine. My mind and heart is still in shambles after that perfect finale. What now?

Now, we carry that love into the world, we tell stories about love and acceptance, and we live by that motto ❤ David, you won! #SchittsCreek #SchittsFinale pic.twitter.com/KFwjmTFgUG

— nicole 🥺❤ | sc spoilers (@NicoleC_talks) April 8, 2020
So long, Schitt's Creek.