Tan France Says Fashion Right Now Is All About How It Makes You Feel
The "Queer Eye" star spoke with NowThis about how to decompress during a tumultuous time and offered his expert opinion on post-pandemic fashion.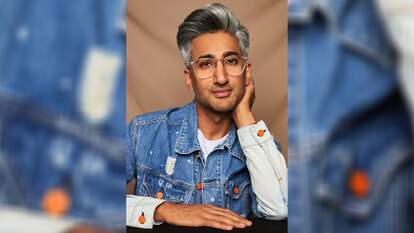 In an era of soft pants and the newly-adapted stay-at-home lifestyle, fashion designer-turned-stylist and TV personality Tan France wants people to reconsider that trendy purchase (for now) and focus more on their own well-being. In an interview with NowThis at the end of 2020, France gave the same advice for both self-care and clothing purchases: It's all about what makes you feel good.
France is best known for his expert stylist skills and as the French tuck connoisseur on Netflix's hit show "Queer Eye." He gave some insight into what he's been doing to reduce stress during the pandemic, what clothes people should or should not be buying right now, and when he'll be reuniting with the Fab Five.
Self-care and decompressing in stressful times
Like a lot of people, France's work life changed drastically during the pandemic when filming for "Queer Eye" was forced to shut down last spring. While France's self-care routine has been established for a while (including his famous blowout), some welcome additions have helped him unwind now that he's been home more.
France said he's taking more baths, getting dressed every day — in "the nicest pajamas" you've ever seen — and staying off of Twitter.
"There's just a lot more stress this year than we've been used to... There's just a lot to think about. And so self-care has been more important this year to really decompress," France said. "I've taken so many baths this year. I can't stay in the bath for a long time. It's 15 minutes to just pretend that nothing else exists and just think about the things I want to think about as opposed to the doom and gloom of it all."
France said that taking opportunities for "pockets of reflection" is an important part of anyone's daily routine. Another ritual he's sticking with is getting dressed — even if it's in different pajamas.
"When I say I get dressed every day, I get dressed in a way that makes me feel good," France said. "Even if it doesn't look like it's red carpet ready, at least I feel good because for me, getting dressed is more about how it makes me feel then what Anna Wintour might think of it."
He continued: "When you do make that a bit of an effort in the morning, it really does make you feel better. It makes you feel like you're ready for work."
France added that he selectively scrolls the internet and never looks at his DMs.
"I avoid the nasty conversations online. I don't use Twitter very often. Quite honestly, I hate it," France said. "I do all I can to avoid the noise and focus on the facts. I follow a couple of accounts that just give me factual information. Katie Couric's Instagram, for example, gives me the facts of what is going on with [COVID-19] or politics. And that's good enough for me."
France said he steers clear of online conversations that he knows will make him feel angry or argumentative.
"Don't get me wrong, every now and then I love a quick clap back. But I will give one and then I am out," he continued. "It's me protecting my sanity."
France said he's finding moments of joy throughout the pandemic that have been helpful, including being "on a fitness journey" — "that's the douchiest thing you'll ever hear anybody say."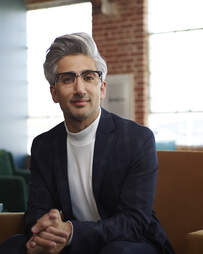 "I avoid the nasty conversations online. I don't use Twitter very often. Quite honestly, I hate it," France said. "I do all I can to avoid the noise and focus on the facts."

| EyeBuyDirect
Pandemic fashion advice
As much of the country's labor force began working remotely, office clothes became obsolete. Outfits to wear on a night out started collecting dust, and jeans just felt like an insult. France said that if you are making clothing purchases right now — emotional shopping, perhaps — there are some things you should avoid.
"Major trends I couldn't care less about and that's always been the case for me," France said. "So don't invest in a major trend that you see right now because first of all, you're probably not going to be able to wear it out."
If you make appearances in a lot of virtual meetings, France said, focus on the waist up, and don't spend your hard-earned cash on pants. Instead, think about accessories like jewelry or glasses.
"You're at home, you're working all the time. Don't invest in incredible pieces that you're not gonna be able to use. Invest in things that people can actually see," France said. "Ensure that your bottom half doesn't look as glam as your top half on a Zoom call. If you're wearing anything other than something like sweats or shorts or something, you're not comfortable. You might be there for hours, so you want to be as comfortable as possible."
At the end of 2020, France collaborated with EyeBuyDirect to hand-pick styles for the brand's holiday collection, which included blue light glasses that he said can help people who stare at screens all day.

The future of fashion
Theories have
circulated online
about a major social and economic boom after the pandemic subsides and COVID-19 is more manageable. Some are even predicting a possible repeat of the roaring '20s that occurred after the 1918 flu pandemic — glitz and glamour included.
France agreed with this theory and said with fashion specifically, the world might see a repeat of Dior's iconic "New Look" after World War II. At the time, Christian Dior took advantage of the end of fabric rations and introduced lavish clothing pieces in his 1947 collection.
"It's so much fabric that was so voluminous because they wanted to make up for the lost time," France said. "I think that that's where we might end up. I know I'm going to end up doing that. If I've got an opportunity to get dressed up again and go out and see friends, I'm pulling out the fanciest sh*t I've got in my closet. And I don't care if what we're doing is going to Panda Express."

Getting back to work with his "Queer Eye" family
France said that normally he'd spend more time with his co-stars, Jonathan Van Ness, Karamo Brown, Antoni Porowski, and Bobby Berk. For now, they try to keep in touch, much like the rest of the world, through video chat.
"This is the first time in a long time that I've not been able to see them," France said. "It's nice to keep up with them regularly, but it is strange to not hold them. We're very, very, very affectionate, all of us."
He continued: "Honestly, it reminded me this year of how much I love filming 'Queer Eye.'"
While there isn't a set timeline yet, France said he's hopeful filming can resume in 2021. He also noted that the show couldn't achieve the same range of depth and emotion virtually. France said the most genuine moments involve spending one-on-one time with the show's "heroes" while picking out their clothes.
"That is the moment I wait for when they are the most vulnerable, where I can say, 'okay, tell me what you're really going through,'" France said.
Hopefully, France said, the Fab Five can give their audience those moments soon enough.