"So what if they happen to speak and sing in a different language, and so what if they're from a different country? They're amazing artists and we want the whole world to see that."
BTS is the most successful K-pop group of all time. Their latest album, "Map of the Soul: 7," had the year's biggest debut upon its release and is their fourth to top the Billboard 200 album chart within two years. But the real reason the band conquered the U.S. music scene is their relationship with their unprecedented fandom, called ARMY.
BTS Has Their ARMY To Thank, And They Know It
BTS often credits ARMY with their worldwide megastardom, and rightfully so. During a performance at Pasadena, California's Rose Bowl last May, band member Kim Namjoon, known by the stage name RM, told the band's adoring crowd, "You guys are BTS and we're your ARMY."
Imelda Ibarra founded US BTS ARMY in 2014, the year after BTS' debut on the South Korean music show "M Countdown." Ibarra had been listening to K-pop for a year already, but sensed something new about this particular boy band.
"Their look was different. Their style was different. The song they were singing was different," Ibarra told NowThis. "I had to look for the translations of the song the very next day."
Ibarra describes US BTS ARMY as a BTS encyclopedia. Aside from keeping their 500,000+ followers up to date on the band's activities, Ibarra and her volunteer staff members help ARMYs "navigate the more difficult aspects of the fandom or what it means to support a Korean artist."
Visit the fanclub's extensive website and you'll find an ARMY dictionary with explanations of fandom terms like "all-kill" ("When a song charts number one on all major music charts simultaneously") and even a concert survival checklist.
She estimates her fanclub, known among ARMYs as a "fanbase," is one out of hundreds around the world. Searching for "BTS ARMY" on Twitter turns up fanbases from Brazil, France, Ghana, Hawaii, Indonesia, and Ireland, among other nations, states, and cities.
"So what if they happen to speak and sing in a different language, and so what if they're from a different country? They're amazing artists and we want the whole world to see that," Ibarra said.
She added that people outside the fandom often assume that all BTS fans are "screaming teenage fangirls," but that this is far from the truth.
"I am not a teenager. I am almost 30 years old. I have a full-time job. I pay my taxes every year," she said. "I have left my teenage years behind … our fandom is so diverse and that's what makes us beautiful."
ARMY Is Like a Record Label's Promotions Department, Except Its Run by the Fans
While ARMY has no centralized authority, they're impressively well-organized. Fanbases urge their followers to buy or stream BTS' music as much as possible, helping the band reach new milestones such as YouTube's 24-hour viewership record. (The record, set last year with 74.6 million views of the music video for "Boy With Luv," still holds today.)
Some accounts even collect donations and later redistribute the money to help people buy the latest BTS music.
Nicole Santero, who is studying BTS and ARMY as part of her PhD program at the University of Nevada, Las Vegas, runs the Twitter account @ResearchBTS, where she creates maps showing ARMY's constant activity on the platform in real-time. Santero said that in February, the fandom promoted BTS so heavily that they trended worldwide on 27 out of 29 days, with over 200 total hashtags related to the group.
As regular Twitter users can attest, landing on the trending page even once is no simple task. But BTS gives ARMY plenty to work with.
"BTS and its team does a really great job in feeding people with endless content … fans are able to engage with them in this way and build on this relationship and even see BTS in a more human way," Santero told NowThis.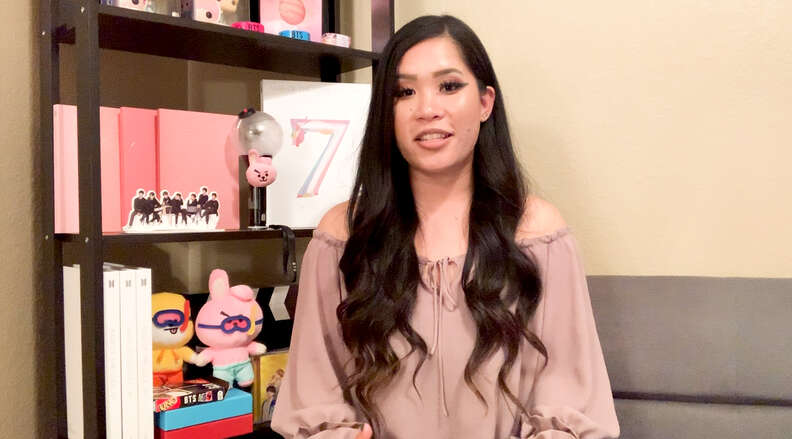 This month alone, BTS dropped a dozen behind-the-scenes videos known as "Bangtan Bombs." Since 2015, they've also appeared in a weekly variety web series called "Run BTS!"
To outsiders, it may appear that BTS' fans solely reside on the internet, but their offline efforts to promote the band are perhaps even more impressive.
If you see a BTS-related billboard, there's a good chance their South Korean record label Big Hit Entertainment had nothing to do with it, like this massive sign in Las Vegas that was organized by local fanbase BTS Las Vegas. Fans also hold regular gatherings for BTS anniversaries and birthdays, called cup sleeve events, because of the BTS-themed cup sleeves that get distributed.
For ARMY, It's Personal. Really Personal.
Anja Kloch, 50, who discovered BTS by accident while watching an unrelated YouTube video, finds the band's messages to be deeply comforting.
"Now they're talking about Carl Jung's theory of the persona and for me, that dichotomy that exists in every single one of us, of the things we really love about ourselves, and the things that we really don't like so much about ourselves, and trying to bring those constantly into balance," Kloch said.
"I am amazed, particularly with Suga's lyrics. He really seems to understand that conflict that is universal despite whatever generation you're in." Suga raps in "Interlude: Shadow," "I run but the shadow follows, as dark as the light's intense / I'm afraid, flying high is terrifying / No one told me how lonely it is up here."
Kloch, who is a cancer survivor, decided to confront her own "shadow" by shaving her head. "When I was sick and I was bald, I hated the way people looked at me," she revealed. "[BTS] taught me that I cannot become a whole person without taking this step."
Kloch works for the St. Baldrick's Foundation, a leading childhood cancer charity based in Monrovia, CA. She fundraised $15,000 and added a unique twist: Donors voted for their "bias," or favorite member of the band, and then Kloch had the winning member's name — Jimin — shaved into the side of her head before shaving off everything a couple of days later.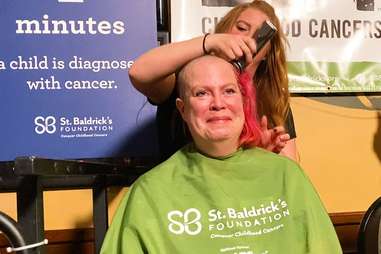 It wasn't an unusual ask of ARMY, who are well used to fundraisers. Last year, they helped BTS raise more than $2 million for UNICEF for the band's LOVE MYSELF campaign against violence toward children and teenagers.
"They are clearly as much in awe of the love that ARMY has for [BTS] as we are in awe of the care and love that they give to us," Kloch said. "And that relationship, it going both ways, I think it really speaks to the BTS experience and why they have become so big."