"Transgender Women Are Women": Daniel Radcliffe Responds To J.K. Rowling's Transphobic Tweets
"Harry Potter" actors and fans are coming together to raise money for trans rights organizations in the wake of J.K. Rowling's latest transphobic tweets.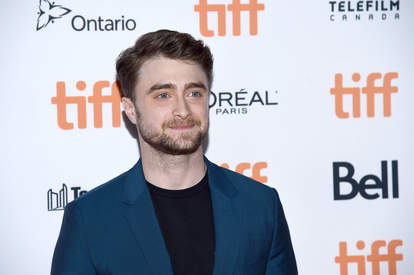 "Harry Potter" actor Daniel Radcliffe put out an emphatic and compassionate statement in response to book series author J.K. Rowling's recent transphobic tweets, which fans and equality activists have widely criticized.
"Transgender women are women," Radcliffe wrote in a statement released on Monday by The Trevor Project, an organization that is dedicated to suicide prevention and crisis intervention for LBGTQ+ youth. "Any statement to the contrary erases the identity and dignity of transgender people and goes against all advice given by professional health care associations who have far more expertise on this subject matter than either Jo [Rowling] or I."
Radcliffe has been working with the group for more than 10 years, first making a donation to them in 2009. 
"I realize that certain press outlets will probably want to paint this as in-fighting between J.K. Rowling and myself, but that is really not what this is about, nor is it what's important right now," Radcliffe wrote. "While Jo is unquestionably responsible for the course my life has taken, as someone who has been honored to work with and continues to contribute to The Trevor Project for the last decade, and just as a human being, I feel compelled to say something at this moment."
On Saturday, Rowling tweeted about a headline that included the phrase "people who menstruate":
'People who menstruate.' I'm sure there used to be a word for those people. Someone help me out. Wumben? Wimpund? Woomud?

Opinion: Creating a more equal post-COVID-19 world for people who menstruate https://t.co/cVpZxG7gaA

— J.K. Rowling (@jk_rowling) June 6, 2020
The article says, "An estimated 1.8 billion girls, women, and gender non-binary persons menstruate, and this has not stopped because of the pandemic." But Rowling still critiqued the language chosen, drawing further backlash with a follow-up tweet.
I respect every trans person's right to live any way that feels authentic and comfortable to them. I'd march with you if you were discriminated against on the basis of being trans. At the same time, my life has been shaped by being female. I do not believe it's hateful to say so.

— J.K. Rowling (@jk_rowling) June 6, 2020
In Radcliffe's statement, he called attention to the fact that trans people are often discriminated against, despite Rowling's "if" clause above:  "According to The Trevor Project, 78% of transgender and nonbinary youth reported being the subject of discrimination due to their gender identity. It's clear that we need to do more to support transgender and nonbinary people, not invalidate their identities, and not cause further harm," he wrote.
Saturday was not the first time Rowling has made anti-trans comments. In December, she defended others' anti-trans comments.
LGBTQ+ rights groups were quick to respond, as were "Harry Potter" fans, many of whom felt disappointed at seeing bigoted remarks from the author of a series famous for its messages about love, equality and inclusion:
Imagine writing a generation defining series about a youth uprisal that defeats a tyrannical monster motivated by the preservation of "pure blood" and looking at THIS time in the world and going "hmm...yep. I'm gonna invalidate trans people."

— h (@halsey) June 7, 2020
Radcliffe also addressed Harry Potter fans directly in the Monday statement: "To all the people who now feel that their experience of the books has been tarnished or diminished, I am deeply sorry for the pain these comments have caused you. I really hope that you don't entirely lose what was valuable in these stories to you."
 
He continued and said, "if these books...taught you that strength is found in diversity, and that dogmatic ideas of pureness lead to the oppression of vulnerable groups; if you believe that a particular character is trans, nonbinary, or gender fluid, or that they are gay or bisexual; if you found anything in these stories that resonated with you and helped you at any time in your life — then that is between you and the book that you read, and it is sacred. And in my opinion nobody can touch that. It means to you what it means to you and I hope that these comments will not taint that too much."
Other Harry Potter actors rebuked Rowling's latest comments as well. Actress Katie Leung nodded to an ongoing conversation about the name of the character she plays in the films, Cho Chang, in which fans have been discussing whether or not Rowling was lazy and stereotypical in coming up with said name for an East Asian character. Leung used the opportunity of the trending conversation to draw attention to the plight of Black trans women.
"So, you want my thoughts on Cho Chang? Okay, here goes…(thread)," Leung tweeted, before linking to fundraisers and petitions for multiple organizations that support Black trans women in the UK.
Many Harry Potter fans banded together to raise money for such organizations:
We aren't going to retweet the tweets because we generally focus on putting out messages that are uplifting, kind, actionable, & factual. The author's tweets tonight are none of those. Instead, here's where you can donate to help Black trans women in ATL: https://t.co/G3luSJHpWc

— The Harry Potter Alliance (@TheHPAlliance) June 7, 2020
The actor who plays Percy Weasley in the movies also weighed in:
My beautiful, brave, strong, trans friends and house of #ChrisNess family. We love you. I can't say it enough. You're wonderful, and deserve to be treated as such.

Please know that.

Be proud of who you are. We are proud of you ❤️

— Chris Rankin (@chrisrankin) June 6, 2020
As did Noma Dumezweni, the first Black actress to ever be cast as Hermione Granger, in the Broadway and West End show "Harry Potter and the Cursed Child":
2. As I honour mine, and the trans friends in my life. I'll defer to THEIR LIVED EXPERIENCES, not their erasure. And these are just the WOMEN! There is Magic in listening. This 🌍 has stories for millennia. I know You Know All this...with love. Nx #TransRightsAreHumanRights pic.twitter.com/dvkS14rIVL

— Noma (@MissDumezweni) June 7, 2020
In Radcliffe's statement, he also wrote, "I am still learning how to be a better ally, so if you want to join me in learning more about transgender and nonbinary identities check out The Trevor Project's Guide to Being an Ally to Transgender and Nonbinary Youth."
The resource covers topics including the differences between sex and gender, the basics of gender identity, expression, and perception, and includes best practices on how to support transgender and nonbinary people.