6 Olympic & Paralympic Hopefuls To Watch Ahead Of The 2021 Tokyo Games
"I just always imagined myself being announced for the Olympic team … before I go to sleep, that's like almost all I can think about"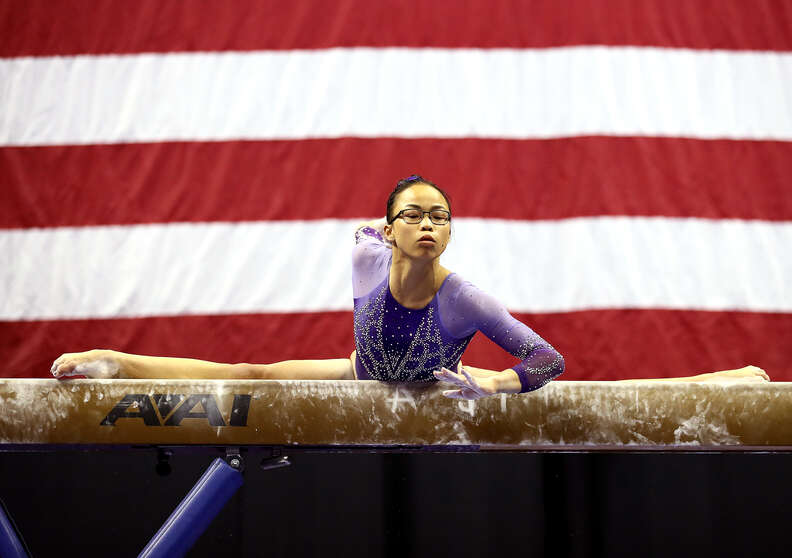 Editor's note: Even though the Tokyo Olympic and Paralympic Games have been postponed until 2021, NowThis and our editorial partners will spend July and August 2020 highlighting the stories of Olympians, Paralympians and Olympic and Paralympic hopefuls. We are spotlighting prospective Team USA athletes who celebrate their immigrant heritage and who deserve attention for their dedication to their sport and speaking out on the issues that matter to them. For more stories like this, please see our video series SEEN, where we're highlighting stories of Paralympians.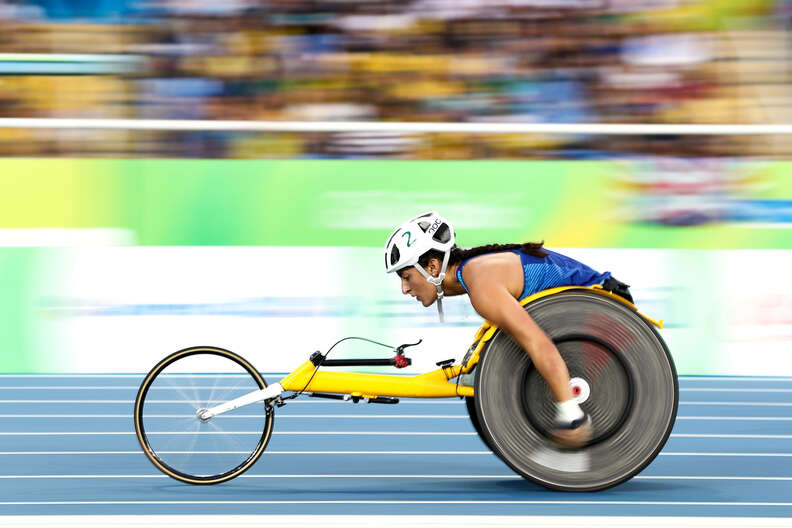 The Speed Queen: Hannah McFadden
Born with a bone deformity in her left leg, Hannah McFadden is an above-the-knee amputee, but that hasn't stopped her from swimming, scuba diving, skiing — and becoming a two-time Paralympian.
McFadden, who was adopted as a baby in Albania and grew up in America, was raised to believe that anything is possible. She embraced sports of all kinds as a kid in suburban Maryland, until she found her true love in wheelchair racing, eventually competing in the 2012 and 2016 Paralympics.
"I really just like going fast," she told USA Today, describing the adrenaline rush on the track. "Just all [of] the sudden your body takes over, and I like that out-of-body experience."
Competing at her first Paralympic Games in 2012 was "probably the most nerve-wracking thing in the world," she said. "You have 80,000 people just screaming. I'd never even had a crowd of 20 people! So going from a crowd of 20 to 80,000, it's a bit of a nerve shock."
She made history that year by competing in the Games along with her older sister, Tatyana McFadden, a five-time Paralympian who is paralyzed from the waist down from spina bifida and was adopted from a Russian orphanage. The event marked the first time siblings had competed together at the Paralympics.
Now 24 years old, McFadden is hoping to become a three-time Paralympian. She is close but competitive with her older sister, noting that she always goes faster when her sister is around. "I've never beaten her," she said. "I look forward to that competition!"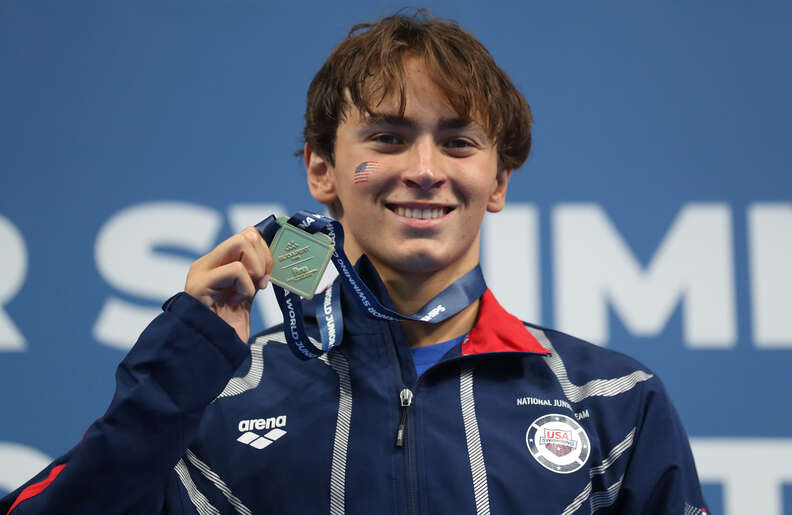 The Swimming Sensation: Luca Urlando
Luca Urlando has quite the sporting family history.
His grandfather was an Olympic hammer thrower in Italy. His grandmother was a javelin thrower on the Italian national team. His father was an Italian national champion discus thrower. And his mother was a standout American high school swimmer.
Now Urlando is carrying on the family tradition as a top athlete himself, hoping to represent Team USA as a swimmer at his first Olympic Games next summer in Tokyo.
Growing up in Sacramento, California, he started swimming in his grandparents' pool with his sister as a kid, learning the basic strokes from his mother. He went on to try an array of sports throughout his childhood, including water polo, basketball, and soccer, before deciding to focus solely on swimming as a 12-year-old.
How did swimming win out over the group sports? "I always liked how with swimming, you kind of got what you put into it," he told Team USA. He then went on to make a global splash in the 200-meter butterfly.
Thanks to his family history, Urlando, who is now 18, has dual citizenship — he has both an American and an Italian passport. The Italian Swimming Federation was very interested in that fact, encouraging him to compete for Italy, according to Team USA, but he politely declined.
His Italian-born father, Alex, who attended college in America and became a U.S. citizen, explained the decision, saying, "The way we think about it is, Luca was born in this country, we are proud Americans, and he is a product of the USA Swimming world in terms of coaches, support, and knowledge. So we want to stay true to that."
The Tough Competitor: Suni Lee
Gymnast Suni Lee is the picture of fortitude.
Last year, a day before she left her Minnesota home for the national championships in Missouri, her family suffered an unthinkable blow. Her father fell off a ladder while trimming a tree branch and sustained a spinal cord injury, leaving him paralyzed from the chest down.
During her practice sessions at the nationals that week, Lee could barely focus as her dad prepared for surgery on his spine. On her first day of competition, he called her from the hospital and said, "I'm OK. Just go out there and do what you normally do," she told The New York Times.
And so she did.
Lee finished second to Simone Biles in the all-around event and won the uneven bars. Her goal now is to make it to the Olympics for her family, and for her fellow members of the Hmong community, an ethnic group from Southeast Asia.
Lee, whose parents are from Laos, told the Times: "It would be such a big deal for a Hmong American to be in the Olympics for the United States. I want to be one of the best in the world, but I also want to succeed for my family — we have a really big Hmong family — and the amazing supporters that have helped me. I want to do it because a lot of people don't know that I'm Hmong or what Hmong even is."
The 17-year-old is honest about her fears for the coming year, saying, "I worry that I'm going to randomly catch the coronavirus and bring it home and not even know that I have it, and then my dad catches it. He's really vulnerable right now, so obviously that would be really horrible. I worry that nothing is ever going to go back to normal and the Olympics next year will be canceled. ... But there's nothing I can do about any of this so, I guess I will just hope for the best and believe that if I can put in the hard work, good things will happen."
The Inspiration: Ezra Frech
Ezra Frech is one busy 15-year-old. For starters, he gives motivational talks at schools, helping people understand what it means to be physically challenged. He also helps raise money for organizations that support people with disabilities. And now, he is vying for a spot on Team USA for the Paralympic Games.
Frech was born with congenital limb differences — missing his left knee and left fibula, as well as fingers on his left hand. He received his first prosthetic leg when he was 11 months old. He has been on the move ever since, setting national track-and-field records in the high jump, long jump, and others.
He and his family also created the group Angel City Sports to provide year-round programming for other para-athletes, along with the annual Angel City Games, a competition in Southern California.
Frech draws much of his inspiration from his mother, Bahar Soomekh, who fled Iran in 1979 and moved to the U.S. with her family during the Iranian Revolution. After arriving in the U.S. with practically nothing, she grew up to become a successful actress, appearing in television shows such as "Without a Trace" and "JAG," as well as movies including the Oscar-winning "Crash."
Speaking with NowThis, Frech said of his parents, "I have an extreme appreciation for the hard work that they put in to lay the grounds for our family." He added that he is motivated every day to make his family proud, and in turn, he motivates everyone around him to live a bigger, better life.
The Phenom: Morgan Hurd
Adopted as a baby from an orphanage in Wuzhou, China, Morgan Hurd came to the U.S. and wasted no time in finding her passion — flying through the air as a gymnast.
As an energetic 3-year-old who liked to climb on things, she embraced a local gymnastics class in Delaware, impressing her instructor from the start with her dedication and drive. At age 5, she moved to a bigger gym to step up her training. The harder she worked, the more her passion grew: In the third grade, she dressed up as legendary gymnast Nadia Comaneci and gave a book report. Now at 18, she's a world-class gymnast with her eyes on the Olympics.
"I just always imagined myself being announced for the Olympic team," she told the Olympic Channel. "Before I go to sleep, that's like almost all I can think about a lot of the times. I just keep playing scenarios over and over in my head."
Her dream has been deferred by the postponement of the Olympics amid the coronavirus pandemic, which has led to challenges in finding a space to train, but she views the delay as an opportunity. "I look at this in a positive light," she said. "It gives me a longer period to get strong and upgrade."
It also gives her an opportunity to learn to speak Chinese — another goal the unstoppable athlete has set.
The Star Sprinter: Michael Norman
The son of two college sprinters, Michael Norman grew up running, winning — and dreaming big.
After his freshman year of high school in Murrieta, California, he told his parents that he would compete at the Olympics one day. He went on to become a top sprinter at the University of Southern California and make the U.S. national team. Now 23, Norman hopes his dedication will help him achieve his Olympic goal.
"I'll always strive for perfection, especially when I'm on the track," Norman told NBC of his fierce drive. He has made many sacrifices in his pursuit of perfection — including giving up his favorite treats. "I really love pastries and doughnuts. I really love breakfast. French toast is my favorite thing to eat," he said. "I just want that so bad, but I'm like, it's OK, I'll go eat a real meal and I'll be fine."
For Norman, the Olympics in Tokyo hold personal significance, as his mother is from Japan. Last year, he had an opportunity to travel to her homeland for the first time, discovering that he had fans there. "I was actually pretty shocked to see how people recognized me, wanted to take pictures of me," Norman told Reuters of his trip to Osaka, where he competed in a meet. "It was really nice."
Now he is training both physically and mentally — learning to speak Japanese — in his bid to get to Tokyo, connect with his roots, and bring home a win.
Abigail Pesta is a journalist and author of "The Girls: An All-American Town, a Predatory Doctor, and the Untold Story of the Gymnasts Who Brought Him Down." Taylor Mills is a researcher and former athlete dedicated to sharing the stories of Olympic and Paralympic athletes with immigrant and refugee backgrounds.