Meet The Soccer Star & Olympic Hopeful Who Refuses To "Stick To Sports"
"I want to play sports. But some things are bigger than sports. We're humans first."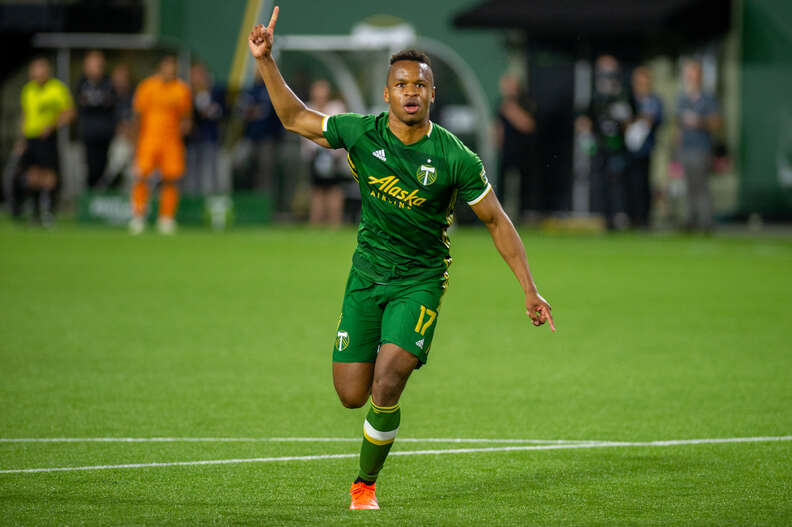 Editor's note: Even though the Tokyo Olympics have been postponed until 2021, NowThis and our editorial partners will spend July and August 2020 highlighting the stories of Olympians and Olympic hopefuls. We are spotlighting prospective Team USA athletes who celebrate their immigrant heritage and who deserve attention for their dedication to their sport and speaking out on the issues that matter to them. Below is our first installment:an interview with Jeremy Ebobisse, a pro soccer player. Also, please see our video series SEEN, where we're highlighting stories of Paralympians.
"Stick to sports."
As a professional athlete who doesn't hold back on issues ranging from voter suppression to the detention of migrants at the border to systemic racism in the U.S., Jeremy Ebobisse has heard that line a lot. "All the time," said Ebobisse, a 23-year-old forward for the Portland Timbers in Major League Soccer. "From individuals I see on the streets randomly, to social media, to murmurs about people maybe not wanting me to speak out."
In the wake of George Floyd's killing, Ebobisse, who was named to the U.S. under-23 men's national team in March, has only been more emboldened to make his voice heard. Like many athletes, from NBA superstar LeBron James to teenage tennis phenom Coco Gauff, Ebobisse has taken a leading role in the Black Lives Matter movement as protests have swept the country.
From his apartment in Portland in June, Ebobisse spoke to NowThis in a video interview where he talked about why athletes shouldn't stick to sports, his multicultural upbringing, and where the country can go from here.
This interview has been edited for length and clarity.
NowThis: In a recent post on Medium, in which you expressed anger and despair over police brutality, you called out the public's response to the protests, writing, "I've seen too many people, too many times, leverage these tragedies into social capital that they can wear as a badge of honor to assuage their own internalized racism." The title of the post was: "It's not meant for your comfort…." Can you explain what you meant by that?
Jeremy Ebobisse: People had this, high five, coming together, we're-part-of-the-fight reaction. I didn't know if it was real or if it was superficial. I'd seen this kind of social media fervor in my past, starting with Trayvon Martin. But George Floyd didn't die for people to feel good about themselves. And the piece I wrote wasn't for their comfort, either. Because ultimately, Trayvon Martin wasn't enough, and Sandra Bland wasn't enough, and on and on, because ultimately there was a time limit for how long people could grieve and how long we could demand change. It's hurtful to know that our pain is worth only a few weeks of people's time. And now, as our country goes through reopenings, I know that this has gone to the back's of people's minds, if not completely forgotten.
So what reason is there to be optimistic that this time will be different?
What gives me hope is that as a Black community, we have continued to find our voice as a collective, where in the past I've felt alone, even if I knew I wasn't. We're trying to unite towards a common goal. Most recently through the formation of our coalition of Black players within MLS, there's a collective recognition from organizations in this country that systemic racism is prevalent and efforts to combat that have not been anywhere near good enough. We need to hold institutions accountable. And if that means a total overhaul, then that's a conversation that we need to have.
But as you've asserted, a conversation on social media isn't nearly enough. What should people be doing?
On a daily basis, individuals can support Black individuals, Black journalists, Black businesses—areas that have been silenced or marginalized for too long. And vote. The right to vote is under attack in so many of our communities, especially within the Black community, through voter suppression. So we need to put people in power who are going to stop this assault on voting rights so that communities can be more representative of the people who reside in them.
You're an avid reader who often says "Commit to learning your history." As someone who was born in Paris and whose parents are from Cameroon and Madagascar, how has learning about U.S. history shaped your perspective?
There were challenges in learning U.S. history because I have an unconventional upbringing. I was naive to some of the problems, but it caught up with me. When I was 11 or 12 I was at a soccer tournament in Disney, and there was a team from South Carolina and a couple players on the team called me the N-word. I had come to understand the significance of that word. I remember tearing up the whole half, not knowing how to deal with it, and I don't think I told anyone after the game. I just kept it to myself. I just recently started talking about that with people in the last few years. But that kind of confronted me with reality and from that moment, I would say I started digging more and more into U.S. history.
My sophomore year of high school, I was on my way to a recruiting trip at Duke when I first saw Jefferson Davis Highway in Virginia. I knew him as the president of the Confederacy, and I was like, 'How is it possible to this day we still have this highway named after a traitor?' Because that's who he was, fighting in large part to uphold slavery. As someone who was in the process of becoming an American, I felt ashamed, I felt angry. But I thought no one cared about my opinion.
Eventually, I realized I wasn't the only one wondering why these people were still being glorified and honored. There's a place for these people to have memorials, but that place isn't one of the main highways leading into the nation's capital.
How has coming from an immigrant family formed your worldview?
My dad grew up in Cameroon and my mom grew up in Madagascar, they succeeded in academic settings and eventually had the opportunity to go and study in France. They worked their way through college so that they could afford to live the lives that they wanted to live, and that's the work ethic that they've instilled in me and my brother Patrick. I have an appreciation for cultures. I want to learn more about where my immigrant friends grew up and what kind of similarities our cultures have. We moved to Washington, D.C., when I was two and it was always important to my mom that I speak French so I could communicate with my relatives, and I'm really grateful because many immigrant children like myself forget their original language. It's becoming more and more important to me to stay reconnected to my roots.
People—to no fault of their own because they don't have that background—feel as if the U.S. is the center of our world. But that's something we need to fight against. We shouldn't have this us-versus-them mentality. We should be looking to help each other, create more coalitions, and keep the world moving in the right direction.
In March, you were named to the U.S. qualifying roster for the 2020 Olympics. Then the pandemic hit, and the Olympics were postponed a year. The competition has a 23-and-under age restriction and you'll be 24 next February. The IOC has yet to rule on whether an exception will be made to the age requirement. What would it mean to you to represent the United States?
Fighting at home every day for your basic human and civil rights, you're confronted when you're representing your country. There's no doubt about that. On a professional level, it's the highest stage possible. To get to fulfill a dream you had since you were a kid is something that it would be amazing, regardless of what's going on. Democracy is imperfect. If I'm representing an imperfect democracy, I'm going to be trying to live up to its ideals. First and foremost, there's pride in representing this country, even with these historical challenges and present challenges that we've talked about.

With the rise of athlete activism, what's your reaction to the International Olympic Committee's issuing of new guidelines outlawing protests on the medal podium and field of play?
​​​​​​​
What really catapults change is international pressure. If the pressure becomes both domestic and international, it becomes hard for the system, or the government, or the regime, whoever is in charge, to continue on as they're doing. So the Olympics is definitely an opportunity to highlight that. It's been in the back of my mind as I was preparing for the Olympics. If athletes feel strongly enough about it, [the rule] doesn't really respect the athletes that are going there.
I want to play sports. But some things are bigger than sports. We're humans first.