Trump-Touted Doctor In Deleted Video Has Pushed Wildly Inaccurate Theories For Years
Within hours of the video being taken down, a Texas doctor elevated by the Trumps' massive social following posted more content pushing the same erroneous claims and other bogus information.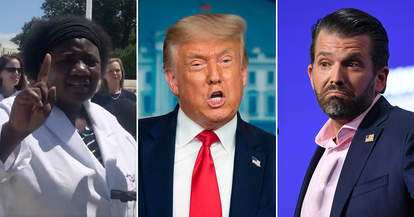 Getty Images, Twitter / @stella_immanuel – Stella Immanuel, President Trump and Donald Trump Jr.
While social media platforms took action against President Donald Trump and his son for promoting a video of doctors making erroneous claims about COVID-19, a doctor at the center of the dispute is continuing to push fraudulent theories to the public.
Several times on Monday, Trump retweeted a video of a group of doctors, including Houston, TX doctor Stella Immanuel, dismissing the importance of wearing masks and falsely praising the antimalarial drug hydroxychloroquine as a COVID-19 treatment. During a Tuesday evening press briefing, Trump called Immanuel "very impressive." 
In the now-deleted video shared by the Trumps, Immanuel said people don't need to wear masks and called studies questioning the effectiveness of hydroxychloroquine at curing the virus "fake science."
"We don't need to be locked down," she reportedly said in the video. "America, there is a cure for COVID." The Daily Beast reported that Immanuel and the other doctors were in Washington, D.C., to lobby Congress when the video was recorded on Monday.
Throughout the pandemic that has killed more than 149,000 people in the U.S., the  president has repeatedly pushed hydroxychloroquine as a "cure," but health officials, including  infectious disease expert Dr. Anthony Fauci, have repeatedly contradicted him. 
The recently flagged video was originally published Monday by right-wing media outlet Breitbart News and was subsequently removed by Facebook, Twitter, and YouTube after gaining millions of views, CNN reported. 
Twitter also took action against Trump's son, Donald Trump Jr., after he posted the video to his own feed on Tuesday. Though Don Jr.'s spokesperson claimed that the platform had suspended him and said that "Big Tech is the biggest threat to free expression in America today," Twitter said on Tuesday that his account had "not been permanently suspended" but that it would have limited functionality for 12 hours.
"Per the screenshot, the Tweet requires deletion because it violates our rules (sharing misinformation on COVID-19)," the company said in a statement via Twitter.
Within hours of Twitter penalizing Don. Jr., Immanuel tweeted several more false claims about COVID-19. And while the video was removed from Trump and Don Jr.'s accounts, many tweets from Immanuel's own Twitter profile are filled with erroneous statements — including a video in which she challenges Dr. Fauci and "everyone in D.C." to give her a urine sample to prove they do not take hydroxychloroquine. However, Twitter has not flagged those posts as misleading.
Immanuel's YouTube account also has 140 viewable videos, including footage of her giving church sermons, which date as far back as September 2009. The Daily Beast reported that Immanuel has pushed theories during her sermons about "demons" spreading illnesses to humans by having sex with them in their dreams. On Tuesday, the phrase "Demon Sperm" was trending on Twitter.
After the social platforms took down the disputed video on Tuesday, Immanuel posted a slew of tweets in which she demanded Facebook to republish the video, writing: "Hello Facebook put back my profile page and videos up or your computers with start crashing till you do. You are not bigger that God. I promise you. If my page is not back up face book will be down in Jesus name."
While Immanuel said her Facebook profile was down, her page showed she had posted a video on Tuesday in which she said, "If you have been cured by hydroxychloroquine, it's time for you to speak up … Real people have been cured."
Also on Tuesday afternoon, she tweeted another video of herself taken in D.C. saying "COVID has a cure" and praising hydroxychloroquine with the caption, "Big Tech is censoring Experts and suppressing the CURE. I will not be silenced."
Twitter's action against Trump and Don Jr. follows its several other recent moves to crack down on false information and potentially harmful content.
In May, Twitter placed fact-check labels on two of President Trump's tweets containing misleading information about mail-in ballots, and also flagged another one for "glorifying violence." In retaliation against Twitter, Trump signed an executive order calling for new regulations under Section 230 of the Communications Decency Act, which protects major tech companies from liability for content that people post on their platforms.
Twitter also recently removed thousands of accounts related to QAnon, a far-right conspiracist group with a stronghold on parts of the internet. 
Meanwhile, critics have slammed Facebook and its CEO Mark Zuckerberg for choosing not to remove Trump's delusive claims in the name of "free expression." 
The Food and Drug Administration has not yet approved any drug for the treatment of COVID-19 and has warned against using hydroxychloroquine outside of clinical trials or hospitals.