Drake Is Launching a Cannabis Company
Partnering with a Canadian weed brand, Drake plans to name it More Life, after his 2017 mixtape.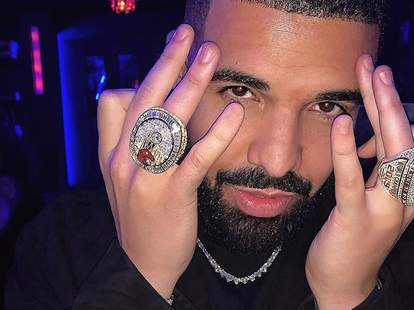 Drake is taking a step into the weed business and partnering with an Ontario-based cannabis company to launch a new brand.
The Canadian rapper and singer has teamed up with Canopy Growth Corp. to start the new brand called More Life, after his 2017 mixtape with the same name. He'll be joining several other celebrities who have stepped into the weed business, including Whoopi Goldberg, Snoop Dogg, Seth Rogen, and Wiz Khalifa.
"Drake's perspective as a culture leader and entrepreneur combined with Canopy Growth's breadth of cannabis knowledge will allow our new company to bring an unmatched cannabis experience to global markets," Mark Zekulin, the CEO of Canopy Growth Corp., said in a press release.
More Life Growth Company will be based in Drake's hometown of Toronto. The artist will have 60% ownership, while Canopy Growth Corp. will have the remaining 40%.
"The opportunity to partner with a world-class company like Canopy Growth on a global scale is really exciting," Drake said in the release. "The idea of being able to build something special in an industry that is ever growing has been inspiring. More Life and More Blessing."
Details surrounding the release date or where the products will be sold are still vague, but Canopy Growth Corp. continued in their release saying that they and Drake "will share further details on the More Life team and vision in the weeks to come."