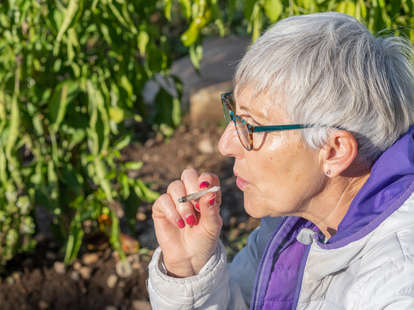 Pass that dutch, dad.
As more states legalize recreational and medical cannabis, the number of Americans over the age of 65 who ingest or smoke weed nearly doubled between 2015 and 2018, according to research published in JAMA on Monday. The study was based on responses from nearly 15,000 adults — the majority of whom were men and white — to the National Survey on Drug Use and Health.
According to the research, respondents who smoke or ingest "marijuana, hashish, pot, grass, and hash oil" increased from 2.4% to 4.2% during the survey period. This spike is especially significant relative to the 0.4% of American seniors who reported using weed in 2006, the researchers wrote.
The survey didn't ask subjects why they are using pot, but the findings do identify some trends among certain groups. Women, college graduates, people of color, and people with incomes of $20,000 to $49,000 or $75,000 and greater were more likely to consume weed.
"I find it fascinating that people who would never touch an illegal drug are now trying to get it, even if it's just for medical purposes," study co-author Joseph Palamar, an associate professor of population health at NYU Grossman School of Medicine, told CNN.
Additionally, people who reported living with chronic illness, experiencing a mental health problem, or consuming alcohol were more likely to use cannabis. People who have diabetes were also more likely to use cannabis, which existing science doesn't support using as a treatment for that condition.
The study did not ask respondents whether they live with common qualifying conditions for legal medical cannabis use, including Parkinson's disease or chronic pain.