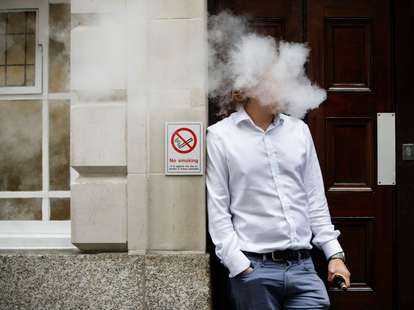 More than half of smokers in the UK now incorrectly believe nicotine vapes are as harmful as tobacco cigarettes, a new study found.
The report commissioned by UK health agency Public Health England (PHE) and scientists at King's College London is the sixth of its kind on the issue. Public health experts said Wednesday that the findings on smokers' beliefs are "out of line" with evidence that nicotine vapes and e-cigarettes are not more dangerous than tobacco cigarettes — while still noting that the newer devices "are not completely safe," Reuters reported.
The collective alarm comes after extensive vape-related panic in the U.S. tied to more than 2,800 hospitalizations and 60 deaths as of February. Since the outbreak of vape-related illnesses, U.S. researchers have even retracted a massive study that previously found a link between heart attacks and e-cigarettes.
"It is concerning to see how much the U.S. lung disease outbreak has affected smokers' views on e-cigarettes here in the UK," said John Newton, director of health improvement at PHE. "Safety fears may well be deterring many smokers from switching [to e-cigarettes or vapes], leaving them on a path to years of ill health and an early death due to their smoking."
The vast majority of the vaping-related illnesses and deaths in the U.S. have been linked to black market THC-containing vape cartridges.
The CDC identified the primary problem as vitamin E acetate, which becomes dangerous when inhaled and can be used to dilute THC oil. That substance is banned in the UK-regulated nicotine-containing vapes and e-cigarettes.

The CDC has said cases of a lung illness known as EVALI, or "e-cigarette, or vaping, product use-associated lung injury," are on the decline. But the CDC is still warning people against vaping anything, including nicotine.
Mike Whiter contributed to this report.