Deadly Riots Rage In Delhi As Trump Visits India And Praises Modi
With more than a dozen dead and 150 injured, people are worried the violence will get even worse after Trump leaves.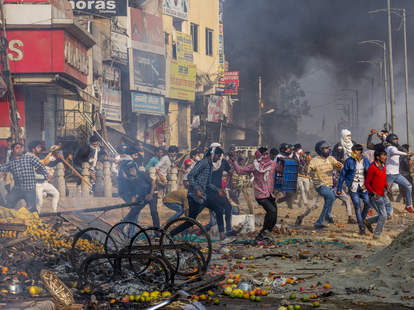 During President Trump's visit to India this week, he praised the leadership of Prime Minister Narendra Modi, with whom he has a well-documented friendship. But a very different scenario is playing out in the streets, one that their joint speeches tried to ignore.
Protests in the Indian capital of New Delhi have been raging for days, turning violent and causing the deaths of at least 13 people, while injuring at least 150 more. Nationwide protests started in early December when the Indian Parliament passed a controversial law known as the Citizenship Amendment Act (CAA for short). The law makes it easier for migrants from neighboring countries to become Indian citizens — unless they're Muslim. Many around the country, especially students at universities, have stood up for India's Muslim minority because of the exclusionary and discriminatory nature of the law. Prime Minister Modi and his ruling party, however, are known for their Hindu nationalist sentiments — meaning they believe India is a country for Hindus. Today, the country is about 80 percent Hindu and 14 percent Muslim. 
Trump was asked on Tuesday about the violence at a press conference in New Delhi.
"While you've been here in the country, in the capital, the northeast part of Delhi, there have been violent clashes. Police have been killed, some demonstrators. Nine deaths so far, we hear, and about 100-plus injured," the journalist said. "What did Prime Minister Modi say to you about this amended citizenship law? And how concerned are you about this kind of religious violence in India?"
Trump responded by saying Modi "wants people to have religious freedom," that "the prime minister was incredible on what he told me," and that he "really believe[s] that's what he wants." Trump said he heard about the attacks, but the two leaders didn't discuss it. "That's up to India," Trump said.
One of the images that went viral during Trump's trip to India was of a Muslim man, injured and bleeding, surrounded by a crowd of men wielding sticks — men who support the citizenship law:
According to local news outlets, Hindu nationalists and sympathizers were targeting anti-CAA protesters this week in New Delhi. As the violence worsened, journalists were targeted as well.
The Press Club of India and Indian Women's Press Corps issued the following joint statement regarding the attacks: "We have little doubt the attackers actively sought to prevent videography or photography that may lead to them being identified. A lethargic police and politicians instigating communal violence cannot escape blame for attacks on the media."
It is INSANE to me that this is not a bigger story. The President flew to India to praise a leader whose movement beats Muslims in the street, and said NOTHING ABOUT IT when there. https://t.co/HY4HmwnTb6

— Chris Hayes (@chrislhayes) February 25, 2020
Modi's political rise in India has been dogged by his actual record on religious freedom and violence. Before he became prime minister, he was the chief minister of the state of Gujarat at a time when hundreds of Muslims were killed by Hindu nationalists. The riots left more than 1,000 people dead, almost 800 of them Muslim, and Modi was blamed for allowing it to happen.
Stop what you're doing, watch this video & read about what's happening in India.

As Trump and Modi parade across the country, mobs are openly attacking Muslims, looting their businesses & desecrating houses of worship just like you see in this video.pic.twitter.com/ouMXwXMsVg

— Arjun Sethi (@arjunsethi81) February 25, 2020
There's a long history of tensions and violence between Hindus and Muslims in India. It's the primary reason British-colonized India was partitioned into two different countries in 1947 upon independence: the Hindu-majority India and the Muslim-majority Pakistan. Mahatma Gandhi, considered the father of free India, wanted to keep the country united and opposed the partition until the end of his life. Gandhi was ultimately assassinated by a Hindu nationalist who thought he was too favorable to Muslims.
Journalists in the U.S. as well as India are trying to raise more awareness of the rapidly worsening situation — and while it's shocking that 13 people were killed, also while the American president was making a high-profile visit, many are worried the violence will only get worse after Trump leaves.
"We are holding back for now – once Trump leaves, Muslims will not be safe," said Gaurav Shastri, a Hindu priest in Delhi, according to Indian news site Scroll.in.
And it's not just street violence that Muslims living in India have to fear: Modi has been building detention camps for people who don't meet the criteria of the CAA. Bloomberg News has more information and photos of the "first standalone detention center for people who don't meet new citizenship rules."