India On Lockdown: PM Modi Tells 1 Billion+ People To Stay Inside For 3 Weeks
"Every district, every lane, every village will be under lockdown. If you can't handle these 21 days, this country will go back 21 years," Prime Minister Modi said Tuesday.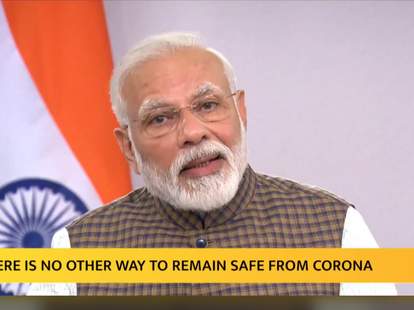 Prime Minister Narendra Modi has announced a full lockdown for all of India, effective at midnight local time March 25, in order to combat the spread of coronavirus in the world's second most-populous country. Approximately 1.34 billion people live in India, the world's largest democracy.
In contrast with other countries enforcing shelter-in-place or similar rules, India's may be the strictest country-wide lockdown yet: Modi said "to save India and every Indian, there will be a total ban on venturing out of your homes" over the next 21 days.
"Every district, every lane, every village will be under lockdown,'' he continued. "If you can't handle these 21 days, this country will go back 21 years."
India currently has a low number of reported cases of COVID-19 compared to other countries. According to the Johns Hopkins tracker, there are 519 confirmed cases as of March 24, and 10 people in India have died from the virus. However, experts warn that the actual number could be much higher, and that the pace of testing compared to other countries has yet to catch up. That was the case in the U.S., where the number of confirmed cases has recently exploded as testing has expanded.
"This virus has been spreading very fast across the world. It spreads like wildfire. Looking at the experience of these countries, and what the experts say, the only successful way to tackle the spread of the virus is social distancing," Modi said, noting that "social distancing is for everyone, even for the Prime Minister."
A few days earlier, Modi had instituted a curfew to try to keep people off the streets, but it was observed "voluntarily" and was less effective at keeping people inside. India also grounded all domestic flights and had previously banned all tourists from entering the country through at least April 15. The voluntary curfew didn't exactly work, and Modi said in his address that "it is impossible to say the price India will have to pay if irresponsible behavior continues."
My fellow citizens,

THERE IS ABSOLUTELY NO NEED TO PANIC.

Essential commodities, medicines etc. would be available. Centre and various state governments will work in close coordination to ensure this.

Together, we will fight COVID-19 and create a healthier India.

Jai Hind!

— Narendra Modi (@narendramodi) March 24, 2020
How will the lockdown in India work?
After Modi's national address, the Ministry of Home Affairs issued guidelines to the state governments with details on enforcement. In practice, the lockdown order doesn't seem drastically different from those that have been enacted in Italy, France, Spain, the UK and many American states, but the Modi government did go a step further in specifically telling people not to leave their homes except for emergencies. Grocery stores and other essential services will remain open, though the Hindustan Times says local authorities "may encourage and facilitate home delivery to minimise the movement of individuals outside their homes."
The government says violation of the order could result in jail time. It's unclear how the policy will be enforced.
By converging around shops, you are risking the spread of COVID-19.

No panic buying please.

Please stay indoors.

I repeat- Centre and State Governments will ensure all essentials are available. https://t.co/bX00az1h7l

— Narendra Modi (@narendramodi) March 24, 2020
Ugadi, observed as the New Year in some parts of India, will look very different this year
The lockdown order comes just as the annual celebration of Ugadi was set to begin in some Indian states. Ugadi is considered New Year's Day for some Hindu Indians, and falls on March 25 this year. State officials requested that people celebrate "in a simple manner in their homes" in order to abide by the new rules. The Hindustan Times also reported that hundreds of people were out shopping in the state of Karnataka ahead of the festival and that local officials have been struggling in their attempts to get people to stay home. 
Kashmiris concerned about internet shutdown
Prior to the coronavirus crisis, the Indian government had restricted internet use in Indian-controlled parts of Kashmir to try to suppress anti-government activism there. Given the ongoing pandemic, human rights observers noted that restricting the internet "can undermine the public health response," among other things. There are no reports that Modi will be extending an internet shutdown to the rest of the country, but doctors in Kashmir say they're having trouble accessing information online because of the restrictions.